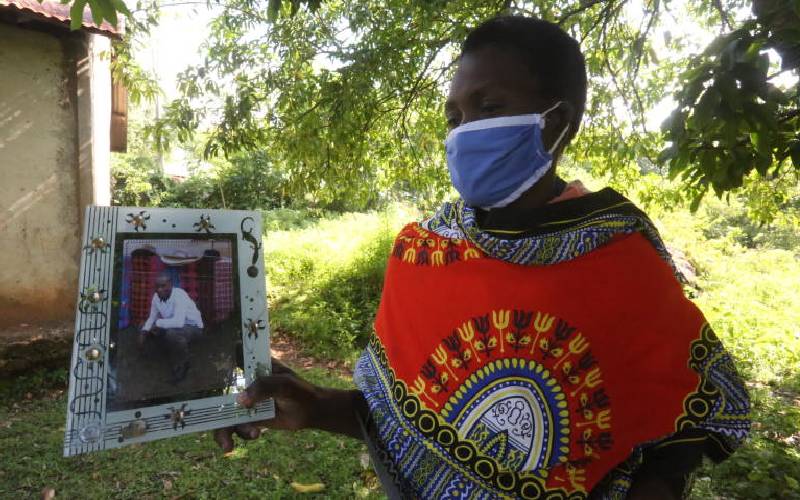 A 40-year-old man has died five days after he was beaten up by police for not wearing a mask.
Maurice Ochieng', a carpenter, was on Monday evening pronounced dead on arrival at Kombewa Hospital in Kisumu, where he was taken after he collapsed at his workshop at Holo market.
His relatives suspect the father of three died from injuries he sustained after police beat him on Wednesday last week.
According to his wife Sela Akinyi, Ochieng' was beaten by police and then arrested for not wearing a mask at Holo, last Wednesday.
Mid this month, the government made wearing of masks in public places compulsory to tame the spread of Covid-19.
Breaching this, the State said in a gazette notice, would attract a fine not exceeding Sh20,000 or lead to imprisonment for a period not exceeding six months, or both.
Akinyi said Ochieng' was detained at Maseno police station but was released when his condition worsened.
She said Ochieng' was in good health and had no preexisting conditions before the Wednesday's beating.
Akinyi said Ochieng' was arrested at his workshop on at around midday.
"He called me to say he had been arrested. Over the phone, he sounded in pain and scared. He did not say much and hang up shortly after. The next day we paid bail and he was released," said Akinyi.
The family paid Sh10,000 bail. Back home, Ochieng' started complaining of stomach and chest pain, and bought some painkillers.
He, however, continued working at his workshop.
"He was a strong man and even in pain he could wake up to fend for his family," said Akinyi.
It was on Monday afternoon that Ochieng' collapsed at his workshop after which he was taken to hospital. He was pronounced dead on arrival.
His brother Newton Ogolla, who was with him when he collapsed, said Ochieng' writhed in pain before he collapsed while clutching his chest.
Kisumu West police boss Edward Kawangara confirmed that Ochieng' was arrested and detained on Wednesday last week for failing to wear a mask, and that an inquest file inquiry into his death four days after his release from police cells had been opened.
He blamed the family for not reporting claims of brutality against Ochieng' as soon as he was released.
"We are waiting for an autopsy report, which will help in the investigation, but the family should have reported the matter immediately the man was released," said Mr Kawangara.
Medical reports at Kombewa hospital indicated that Ochieng' had bruises on the head and chest. "There was nothing we could do, as he had already died," said Kombewa Medical Superintend David Okeyo.
Ochieng's family has started preparations for his burial.