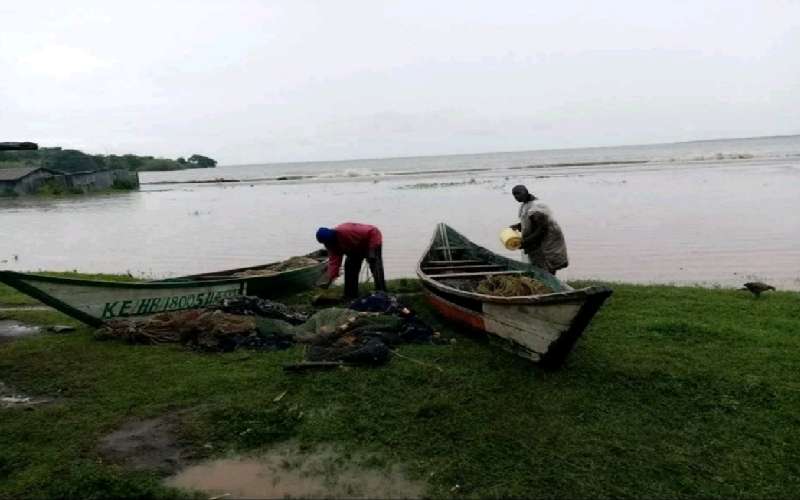 Lake Victoria's fishing industry is on the brink of a major crisis after rising levels of water forced closure of more than 300 fish landing beaches.
A major fish shortage loomed yesterday after a persistent back flow along the lake's shoreline submerged fish bandas, docking piers, shops and drove away hundreds of fishermen. The fishing industry feeds more than 4 million people in Western Kenya.
The beaches and surrounding catchment in Siaya, Kisumu, Homa Bay and Migori counties have been adversely affected. "The boats cannot land because of flooding. The fish bandas have been destroyed. Only a few people still go into the lake but it is risky. I have been at home for one week now," said fisherman, Thomas Okello from Migingo island in Migori.
The situation had been aggravated by the Covid-19 movement restrictions that had earlier left fishermen stranded with fish due to lack of market.
Read More
According to Evans Otieno, secretary of Usenge Beach Management Unit, the catch has reduced and has forced most fishermen to temporarily abandon fishing.
"Business in this beach solely relied on fishing and with the rising water levels that have forced majority of the fishermen to venture into other economic activities, the revenue has equally gone down," said Otieno.
Ugandan President Yoweri Museveni described the rising water levels in the lake as the worst in many decades.
"The water levels of Lake Victoria now stand at 13.4 metres, one point less than the highest we have ever obtained (13.41 metres) in May 1964," he said on Twitter.
A recent study by North Carolina State University's Department of Marine, Earth and Atmosphere Sciences in the US reveals that water levels in Lake Victoria will rise in the next 10 to 15 years due to changes in weather patterns as a result of global warming.