Governor Rasanga rejects findings on bizarre burial of Covid-19 victim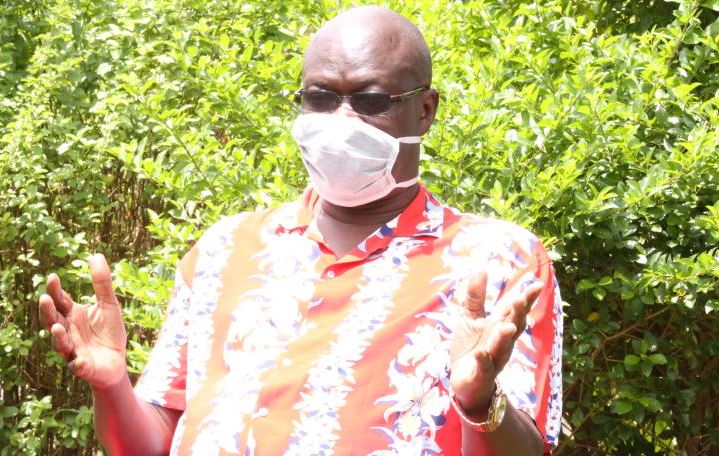 Siaya Governor Cornel Rasanga (above) has rejected findings by the committee he had set up to investigate the bizarre burial of a suspected Covid-19 victim early last month.
The governor set up the committee after angry Kenyans protested following an incident in which former Kenya Ports Authority employee, James Onyango was buried at 2 am, without a coffin.
In videos that went viral, three government officials dressed in protective clothing were seen tossing the late Onyango's body which was draped in a body bag, into a shallow grave at his home in Ukwala.
To cool down tempers, Mr Rasanga who chairs the County Covid-19 emergency response team announced that he had formed a committee to investigate who may have ordered the burial that went against government guidelines in handling people who die from the disease.
On Friday, the governor said he had rejected the outcome of the investigations, a day after all the 17 close relatives of the late Onyango were released from a 16-day- quarantine after testing negative.
Speaking at his Segere home in Alego, the governor said he was not satisfied with the committee findings and as a result, directed them to start the process once more.
Rasanga did not however give details of findings from the committee that he had rejected.
The committee that had been given seven days to conduct their investigations is chaired by CEC for Governance Dismas Wakla, together with the police commandant Francis Kooli, ACK Provost Joel Atong, and a family member as proposed by Ugenya MP David Ochieng.b"I already received the report but I was not satisfied with their findings so I sent the committee to do another investigation and give me a report as soon as possible," Rasanga said.
He noted that the committee will not be allowed to modify the first report but to work it out to great details for the sake of Siaya residents.
The County has recorded two coronavirus cases so far with cumulative of 212 people placed in quarantine from the two index cases.
The new turn of events came just a day after Onyango's family members walked out of the Kenya Medical Training Center after 16 days confinement. They have been tested negative for covid-19.
Zack Onyango who is also the spokesperson of the family confirmed to The Standard that all 17 family members who were remaining in quarantine after majority of their relatives were released by Monday had finally been released.
On April 25, 2020, the first batch of 14 contacts were discharged and released from quarantine. Among the 14 were the nine medics who had interacted with the deceased during his treatment at Matibabu clinic in Ukwala, Ugenya, a radiographer, a taxi driver and three other contacts.
A day later, another 17 people were released from Siaya KMTC and another 19 released from Urenga KMTC in Ugenya after testing negative on the 7th and 14th day respectively. Another 19 contacts from Urenga KMTC quarantine site were discharged on Monday.