Legio Maria pope dies aged 96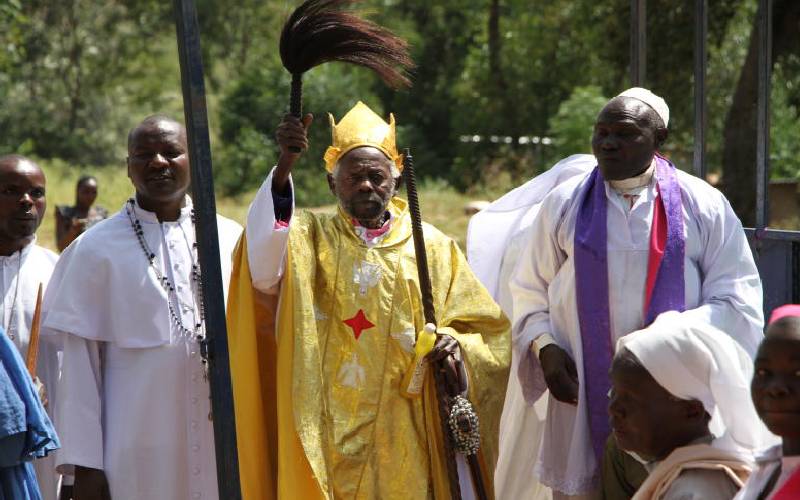 The Legio Maria Church is mourning the death of its fourth pope, Romanus Ongombe.
Thousands of church followers lit candles and held prayers in their homes across Nyanza region after news of their leader's death broke out yesterday morning.
Ongombe, 96, died on Sunday at Calvary, Got Kwer in Migori County, after a short illness. His body was transferred to St Joseph's Ombo Hospital mortuary.
At Calvary where the church's late charismatic and controversial founder, "Messiah" Melkio Ondeto was buried in 1991, faithful dressed in flowing robes chanted "Ave Ave Maria" as they prayed for the soul of the departed leader.
Joseph Warambo, a senior official at the church, said they were already making burial arrangements for Ongombe, who has left behind seven children and several grand- and great-grandchildren. He said the leader would be interred at Got Kwer.
Pope Ongombe has had a troubled reign at the church ever since he took over in 2004 from Pope Raphael Adika in a chaotic and controversial succession battle that has been dragging in court for many years.
After Ondeto's death, Pope Timothy Blasio Ahitila took over the leadership of the church but died in 1997. The mantle was taken over by Pope Lawrence Chaiji, who passed it to Adika.
"It is true the pope has gone to rest with the Lord. He will be buried at Got Kwer," said Mr Warambo
Issue statement
Yesterday, Pope Adika said he was aware of the passing of Ongombe, but promised to issue a statement later in the week.
"Right now, I will not make any comment or statement over the death," Adika said.
Ondeto, a charismatic leader, started the sect, with Ongombe being among his first converts.
Last September, more than 20 people, including a priest, were hurt and several vehicles burnt in skirmishes at the holy hill over leadership wrangles.
Armed police officers had to come in to prevent two warring camps from clashing further.
In August last year, a High Court sitting in Migori declared Adika the duly elected pope while Ongombe was to be patriarch.
Church religious sites, like Got Kwer, were ordered to be accessible to both sides.
Ahead of the court ruling, Adika and Ongombe had tried to bury their differences that had gone on for more than 10 years, but they soon fell out after fresh differences emerged.
Justice Anthony Mrima ruled that the sect's pope would be Adika, a position which was held by his nemesis Ongombe.
Civil case
Adika and others had filed a civil case against Ongombe and others in 2009 and the two parties reached an agreement by consent.
"By consent, the matter herein is marked as settled and Raphael Adika remains the only pope of the Legio Maria as per the church constitution as Romanus Ongombe resumes his role as cardinal of the church," the judge ruled.
The court also ordered that members of the two opposing camps access every worship place, unite the church and promote reconciliation.
The church was founded by Ondeto in 1960s as an offshoot of the Catholic Church, which incorporated African culture.
Even though he died and was buried in an elaborate ceremony that lasted several days, many Legio Maria faithful still believe Ondeto never died since "he was not a human being".