Bleak future as floods leave trail of destruction in Kisumu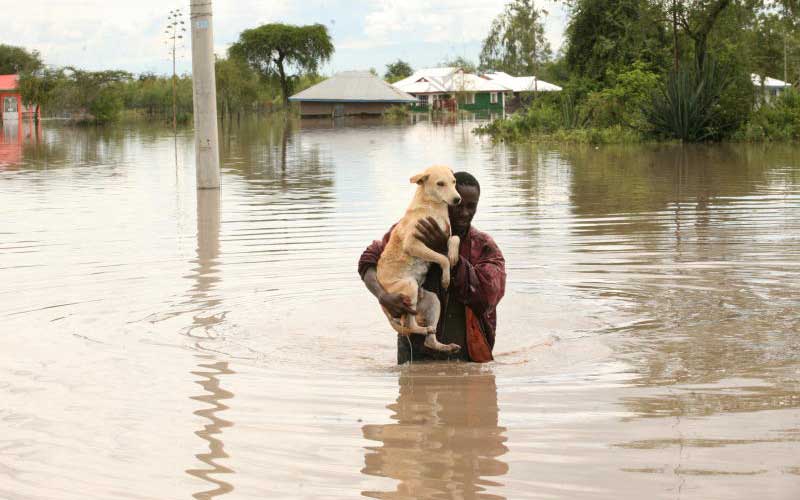 Ravaged by floods, Nyando residents are staring at a bleak future even as the country steps up efforts to contain the spread of coronavirus.
The situation worsened yesterday after raging floods swept through several villages, leaving a trail of destruction.
Hundreds of families were displaced by the floods, which swept away some of the homes.
And businesses around Lake Victoria are staring at huge losses as the region starts to feel the impact of the lake's swelling waters.
A key road linking Ahero and Sondu markets was completely cut-off by the raging waters. A truck that had tempted fate was swept away by the waters.
Residents of Ayweyo said the floods are the worst they have seen in a while and had diminished their hopes of survival, at a time when the country is also faced with Covid-19, which requires good personal hygiene.
When The Standard visited the region yesterday, several residents stood helplessly on the raised tarmac road as raging waters swept through their homes.
Several houses were swept away, while others were almost completely swallowed by the devastating floods - with only the roofs rising above the water.
Several residents told The Standard the floods had left them stranded and they did not know how they would survive in the coming days.
Beatrice Achieng, a mother of three, said she was woken up by loud screams at around 3am as it rained heavily.
"I woke up to a flooded house but managed to rescue my children and take them to higher grounds in the darkness," she said.
Unfortunately for her, she was unable to save her household goods as floods swept away her house.
But she is not alone. Angeline Apiyo, another resident, said she survived the flash floods by a whisker.
In Nyakach, several families sought refuge at Osodo Primary School to escape raging floods after River Sondu Mirui burst its banks.