Game changer: Youth, professionals register new political party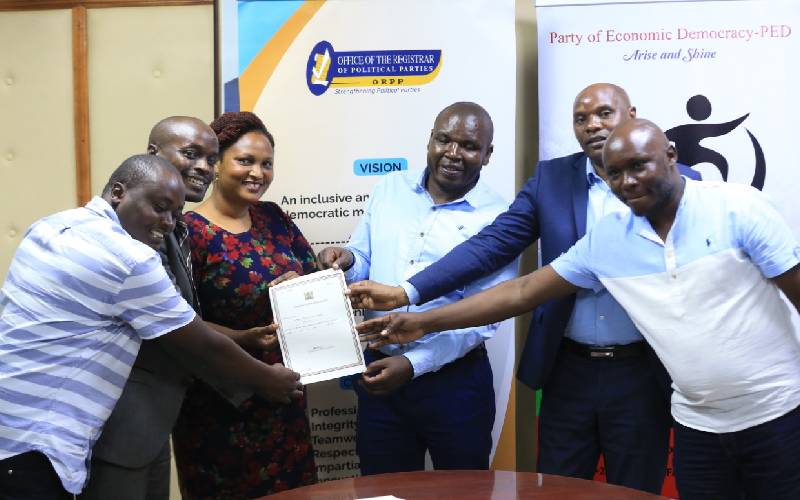 A section of youth and professionals from at least five counties led by Kisii have formed a new political party; Party of Economic Democracy with a recruitment of new members set to begin in the coming days.
Party officials received the registration certificate from the Registrar of Political Parties on Thursday setting ground for the recruitment exercise that officials say will be delayed due to the coronavirus pandemic.
The officials have been waiting for the certificate since 2018. Sources indicate the party is well funded by professionals, majority from Kisii, Nyamira and others from Eastern and those from Central Region counties.
The party which has a symbol of a person running has the organizing secretary from Western, patron from Kisii while Ukambani have presented the party vice chair.
In a press conference in Kisii town yesterday, party members led by former Moi University Student Union (MUSO) President Mogire Onchiri said they are ready for a generational change in the Kenyan politics.
"We are interested with the country's economic, social and political prosperity. For a long time, we have bestowed the country's fortunes on the old generation and it is high time we entrusted the youth with the leadership," said Mogire.
The entry of the new party in Kisii and Nyamira counties is likely to create anxiety among serving political leaders who are in bigger political parties such as ODM and Jubilee.
Advocate Enock Ongiti, another member of the party said, they are not interested in the recruitment of the seasonal political leaders but fresh blood.
"We are ready for a new political path. The hope of our people must be restored for a better future."
For a period of more than 10 years, Ford People party spearheaded by retired politician Simon Nyachae was the dominant party in the Gusii region until 2013 and 2017 General Elections that the region embraces leaders from other parties.
Parties including Kenya national Congress and People's Democratic Party and even independent candidates got voted ushering in a dispensation in the region.