Maangi records statement over maid assault claims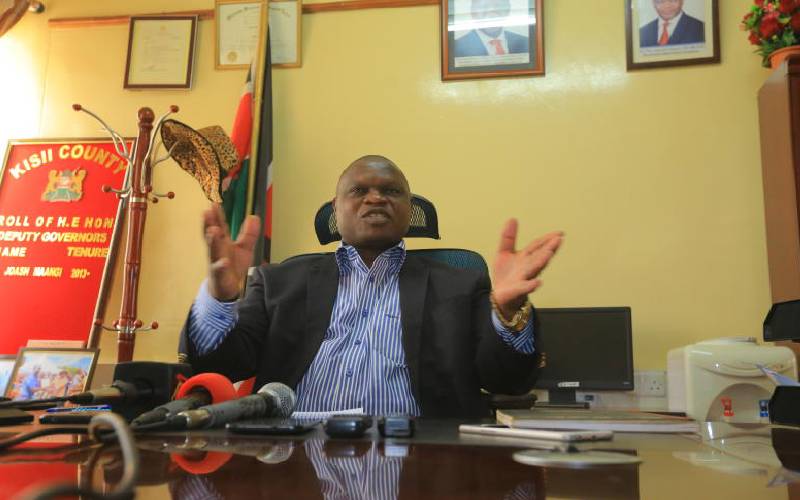 Kisii Deputy Governor Joash Maangi has termed assault allegations levelled against him by his former domestic worker as unfounded. Accompanied by hundreds of his supporters, Mr Maangi recorded a statement at the Kisii Police Station, where the complainant reported the matter on March 5, 2020.
Maangi is accused of having assaulted his house help last December, allegations he claims are politically instigated. He said the summons to appear before police were issued by the Kisii County Police Commander Jebel Munene.
In a media address outside the police station yesterday morning, Maangi said he was prepared to face trial, adding that he had confidence in the judicial system.
"I am a law abiding citizen and that is why I decided to come and record my statement. This is a political matter that I will deal with in due course. Nobody can stop me from achieving my political ambitions," said Maangi.
The alleged incident is said to have occurred at the Deputy Governor's rural home at Riagongera village, Bomachoge Chache during the Christmas holiday.
His advocates, South Mugirango MP Sylvanus Osoro, Kerosi Ondieki, Gideon Nyambati and Philemon Onchwangi, escorted him to the station, vowing to pursue the matter to the end.
"We are aware that some political leaders are being prosecuted because of their alignment to certain top leaders. They have tried to script the statement but we are aware that as early as this year, our client has been at the fore front of fighting the corrupt in the county. These are signs that corruption is fighting back," said Osoro.
He said: "The legal team is ready to put up a serious defence in court. We are challenging those planning such unnecessary political activities to take note that Kenyans are busy trying to find a solution to the coronavirus epidemic and not engaging in needless political wars."
Maangi has been facing turbulent political times since January this year.