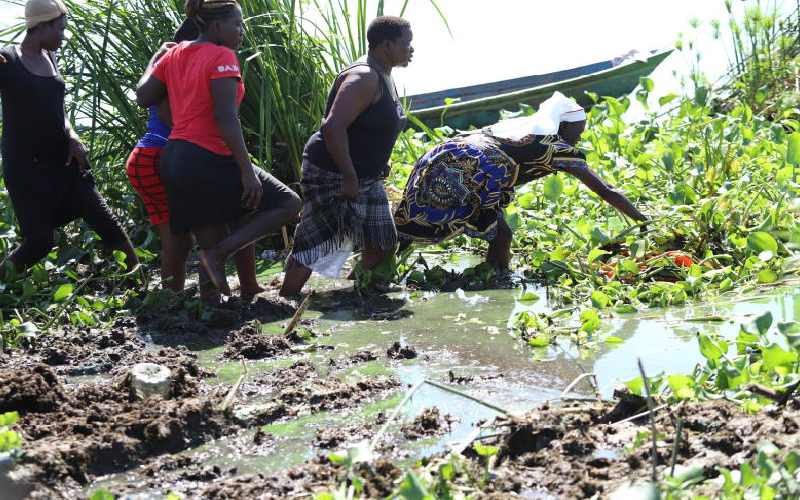 Fear has gripped Usoma village in Kisumu west after hippos attacked and killed a fisherman on Saturday morning.
The body of Abubakar Iddi was discovered yesterday morning not far from Usoma Beach after a day search conducted by friends and relatives.
According to his brother Musa Ali, Iddi had left home on Saturday morning to go fishing, a trade he has been engaged in for the last 10 years.
"Iddi has been going to the lake with a colleague, but yesterday, the colleague delayed, and he decided to go alone," said Ali.
He said Iddi did not return at 3 pm as he always does, prompting them to search for him among friends relatives.
"So when it got to 4pm, we were worried that he had not returned. So we started making calls to friends and relatives, but nobody reported seeing him," he said. It was at this time that the friends and family begun the search.
The search yesterday ended in shock as the body of Iddi was retrieved with one limb missing, with wounds on the chest and upper arms.
The canoe which he had used was floating in nearby reeds, with Iddi's belonging left untouched.
Ali said they had spotted a heard of hippos during the search, a situation which has created fear among the residents.
"These days the population of the hippos has increased, and every time you venture into the lake, you are likely to see a heard of about 10 hippos," said Ali.
The fisherman's death comes two years after his colleague and cousin, Hamisi Omari was killed by a crocodile in an adjacent beach.
Another killing
Elsewhere, a 46-year-old fisherman was killed by a hippopotamus in Homa Bay.
Joseph Ochieng was killed by the wild beast near Kisui Beach in Mbita Sub County.
It is reported that Ochieng met his untimely death when he had gone to fish in the lake on Saturday.
Residents said Ochieng' concluded his expedition well, but he met the hippo on his way when rowing the boat back to the land.
According to Homa Bay County Beach Management Network chairperson Edward Oremo, the hippo hit Ochieng's boat and turned it upside down.
"It seems Ochieng' got injured when the animal turned the boat upside down. This might have made him unable to swim to safety," said Oremo.
Oremo said Ochieng' was attacked at a deeper part of the lake, making it difficult for his fellow fishermen to find his body immediately after the incident.
"We have started searching for him to enable the bereaved family to get the body of their loved one," Oremo added.
The chairman decried frequent attack by hippos on people fishermen in the lake.
He called on the Kenya Wildlife Services (KWS) to devise long term measures of protecting riparian land along the Lake to prevent human wildlife conflict.
"Many cases of human wildlife conflict along the lake are caused by encroachment of the riparian land. Let the KWS come up with permanent measures of protecting the riparian land to prevent the conflict," said Oremo.