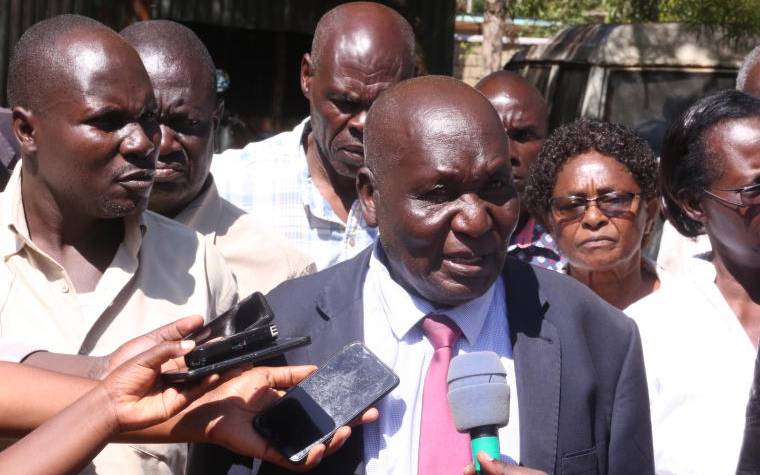 Anxiety has gripped Maseno West Anglican Church of Kenya (ACK) Diocese after Bishop John Godia transferred more than 60 priests.
Some of the affected priests yesterday questioned the mass transfers but Bishop Godia, insisted they were normal.
The transfers come at a time some priests and lay leaders have been calling for the split of the diocese into two.
Yesterday, some priests who had received their transfer letters, told The Standard the bishop was transferring those who did not support him during the elections, last year.
"Most of the priests who have been transferred supported his opponents. We are shocked by his move to transfer us back to our village parishes. This is not fair at all," said a priest who sought anonymity.
Sinister motive
However, Godia denied any sinister motive or witch-hunt, noting that the decision was made after consultations.
"There is a team in the diocese that deals with transfer matters. I consult them and after they are through with their work, I implement. The entire role of transferring a priest of course is a preserve of the bishop," he said.
He noted that there was no policy in the church laws that states a priest cannot work in his home and village parish.
The bishop said priests undertake to work in any part of the diocese when they are appointed.
"When I transfer you to another parish and you interpret it that you have been sent to work in your village because of other reasons, it beats logic. Actually, the problem is not me but the people or priests who have decided to give this move wrong interpretation," explained the bishop.
Godia replaced Bishop Otieno Wasonga who retired in September 2019 after serving for over 29 years in the diocese.
The Maseno West Anglican Diocese was rocked by wrangles during and after elections that has since led to division.
Aggrieved clergy said the election of Godia was not free and fair.
Bishop Godia yesterday noted that every priest started working in their village parish when they joined the clergy.
"When working on this transfer process, we focus on where we believe a priest can do his job well. We have played our role rightly so and I want to confirm there is no uproar at all. This is one of the things I have done as a Diocesan bishop and we really have no control on other people's interpretation over this decision," he added.
Meanwhile, the Labour and Social Protection office in Kisumu has summoned Godia for a joint conciliation meeting on January 13, 2020 following a complaint from a driver, George Onyango, whose contract was terminated.
The office in their letter dated January 7 have asked the bishop to bring with him the employment records of Mr Onyango. The complainant worked as Bishop Wasonga's driver.
"The records should include an attendance register, payment sheets, appointment letters, leave, overtime and public holiday payments," read the letter from the Labour office.
From January
According to a letter dated November 22, 2019 written and signed by the bishop and addressed to Onyango, he was asked not to report to work from January 1, 2020.
The reference of the letter read, "notice of termination of service".
"Take this sufficient notice from the same effective date of this letter. We appreciate your service to the diocese for the years you served and wish you well in your future endeavours," read the letter.