Kisumu woman in distress after bulls electrocuted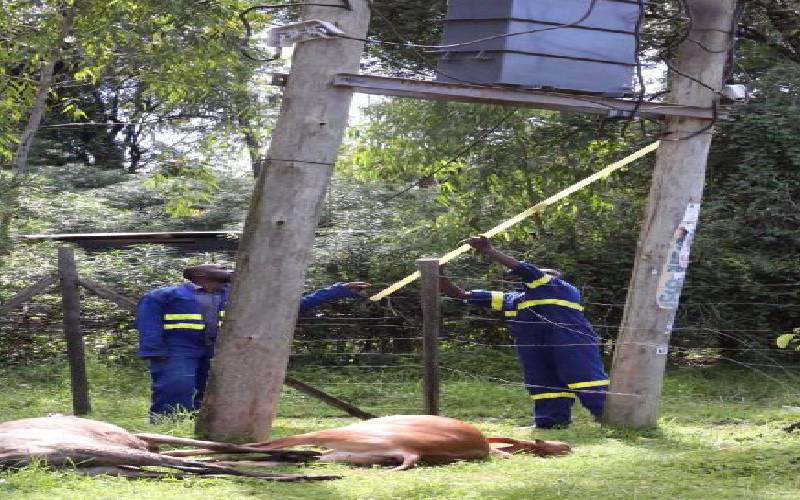 A woman in Kisumu is crying foul after an electricity transformer installed in her home electrocuted two bulls.
Milka Ogega said they have been living in danger for seven years due to the transformer and their pleas to Kenya Power to relocate the high-voltage equipment have fallen on deaf ears.
"The death of the bulls belonging to my neighbour is not the first incident. This transformer poses a serious danger to my family," she said.
The two bulls belonging to 85-year-old Jekonia Were were electrocuted as they graced near the transformer in Kasule village, Kisumu East Sub-county.
"The matter was reported to Kondele police station. The two bulls are all I had, now I'm left with nothing," Were said.
When we arrived at Ms Ogega's home, Kenya Power technicians were disconnecting power from the transformer.
Ogega said Kenya Power started installing the transformer inside her compound in April 2013, while she was away.
"I was away for about one week. When I returned, I found the Kenya Power had dug two huge holes in my compound where they were to install the transformer.
"I opposed their plans but they went a head to install it," she said.
In letters to Kenya Power, seen by the Sunday Standard, Ogega complained that the transformer had been bursting into flames every other time since it was mounted.
"This has become a threat to my life and that of neighbours, I hereby write to request for an immediate relocation," reads one of the letters.
Daniel Okumu, who is in-charge of operations and maintenance at Kenya Power in Kisumu confirmed receiving the report of the electrocution.
He said investigations have been launched to find out if the transformer was installed at a home without the owner's consent.