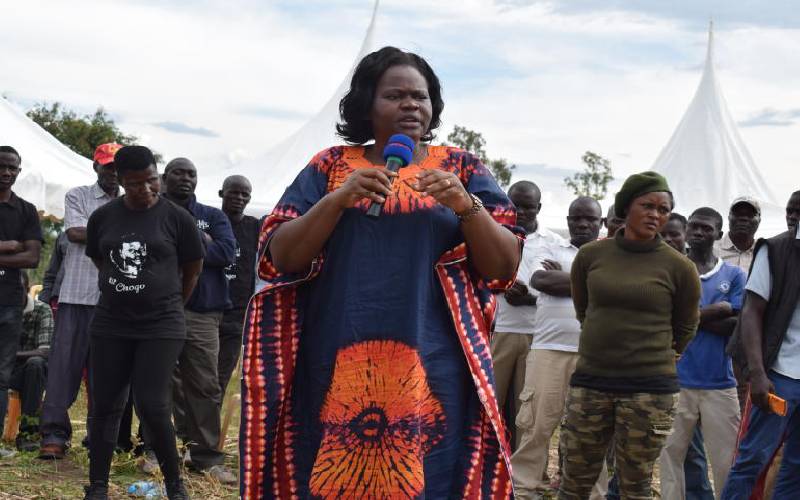 Homa Bay Woman Rep Gladys Wanga wants ousted County Assembly speaker, Elizabeth Ayoo, to force her way back to office, the way her Nairobi counterpart Beatrice Elachi did.
Wanga told Ayoo to emulate Elachi who forced her way back to the office last week amid violence nearly five months after being impeached.
She said that just like Elachi, Ayoo was the one recognised by law as the speaker of Homa bay County Assembly.
Wanga told the MCAs to obey the court and allow the Speaker to return to work.
Wanga who spoke during the burial of former nominated MCA Rachel Polo at Wagwe Village in Karachuonyo constituency told the MCAs to accept the court ruling that reinstated the Speaker.
"Ayoo is the speaker recognised by the court. I tell her to gather courage and resume her duties at the county assembly as Elachi did," Wanga said.
The county MP argued that there was no reason why Ayoo was not presiding over the assembly proceedings.
Ayoo who was also present during the burial promised to return to the county assembly and perform her role.
"I am still the county assembly speaker. I am soon going back to start discharging my duties officially," Ayoo said.
Ayoo was kicked out in November last year after being accused of incompetence and has been unable to resume duty despite court orders reinstating her as the Speaker.
Her attempts to return to work have been violently resisted by the MCAs who also vandalised her office.
She was replaced by her Deputy Evans Marieba on an acting capacity.
Her impeachment led to the arrest of a number of MCAs over alleged assault.
Wanga had last week accompanied the embattled Nairobi Elachi as she tried to return to City Hall in a move that was rejected by a section of MCAs.
The assembly became a battlefield with property destroyed by rival faction goons that made their way into City Hall.
The MCAs were also split with those on Elachi's side and others against her return led by Majority Leader Abdi Hassan Guyo.