Broken pipes in Kisumu leave 7,000 locals without water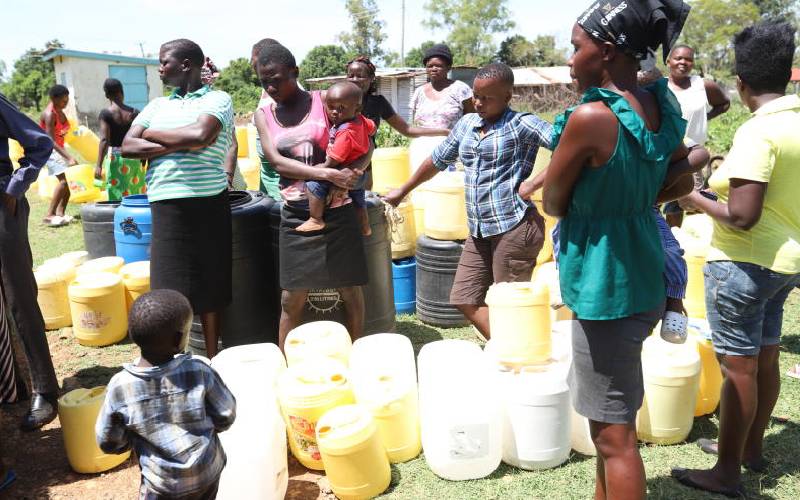 At least 7,000 residents of Kisumu West Sub-county are grappling with a water crisis after construction works at Kisumu Port damaged water pipes.
The residents who were interviewed yesterday by The Standard said they have not had water supply for the last two months.
Michael Maunga, a village headman in the Sub-county, said four community water points have already been closed.
Mr Munga said residents are being forced to walk long distances to fetch water, while others are buying a 20-litre jerrican for Sh40.
Usoma Primary School, which is located about 200 metres from Lake Victoria, is one of the institutions that have been hit hard by the crisis.
According to Bernard Ochieng, the deputy head teacher, pupils are being forced to carry water from home, a situation Mr Ochieng said posed a threat to their health.
"Most of the families do not have clean water supply because of the damaged pipes. When we tell people to carry water, they simply draw it from the lake," Ochieng' said.
"With the lake facing pollution, the risk of contracting waterborne diseases is real."
Maria Asman, another resident, said the search for water has taken a toll on many women in the village.
"Most people in Kisumu West are not employed and it is expensive for them to buy water. There are already children who are complaining of running stomachs after drinking contaminated water," Ms Asman said.
The water pipes were laid down by the Kisumu Water and Sanitation Company (Kiwasco). Following the damage, the residents have written a letter to the water firm asking it to use tankers to supply them with water.
"Water being a crucial commodity, we urge Kiwasco to urgently make arrangements to supply Usoma Village and its environs with clean water on an agreed schedule to alleviate our suffering and forestall a sanitation disease outbreak," the letter signed by Usoma Residents Association Interim Chairman Maurice Roche read.
Kiwasco officials said the company will issue a statement on the crisis.