Stop inciting nurses to go on strike-Nyong'o pleads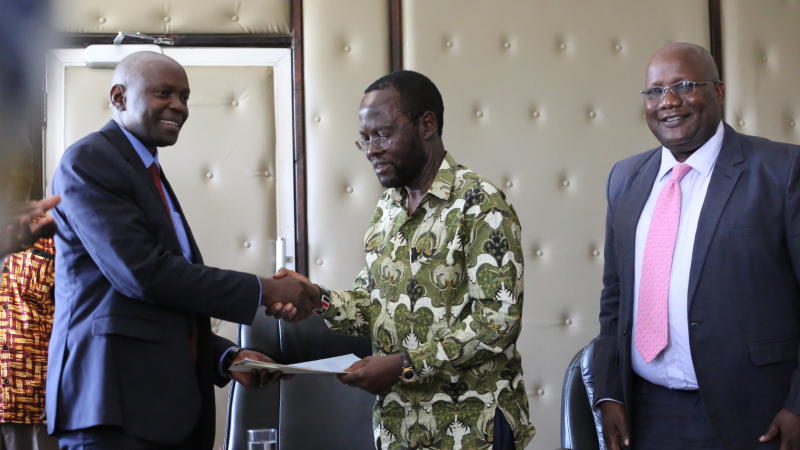 Governor Anyang' Nyong'o has pleaded with the Kenya National Union of Nurses (Knun) to call off an ongoing strike over unpaid salaries.
Addressing the Press at his boardroom yesterday, Prof Nyong'o blamed the delay in disbursing nurses salaries on a standoff between the National Assembly, Senate and the counties on revenue allocation.
Nyong'o said the nurses will be paid now that the standoff has been resolved and Sh50 billion released by Treasury to the counties.
"Although my hands were tied because there was no money, I want to implore the medics to be patient as we work out a payment formula," he said.
The nurses' strike started on Tuesday last week in all health facilities in the county.
Striking nurses
The striking nurses were joined by the Kenya Medical Practitioners, Pharmacists and Dentists Union and the Kenya Union of Clinical Officers.
Others who have joined the strike are the Kenya National Union of Medical Laboratory Officers and Union of Kenya Civil Servants.
The Kenya National Union of Nurses (Knun) Deputy General Secretary Maurice Opetu has declared that the strike will go on until the nurse's grievances are met.
Opetu said the health workers have been going without salaries for several months now.
He said the nurses have missed out on critical financial services due to failure by the county government to remit statutory deductions promptly.
Governor Nyong'o admitted that the county was facing financial challenges, but pleaded with the health workers to end the strike.
"It is painful and we have talked with the union officials and told them to be humane. I am wondering why they have ignored our appeal," he said.