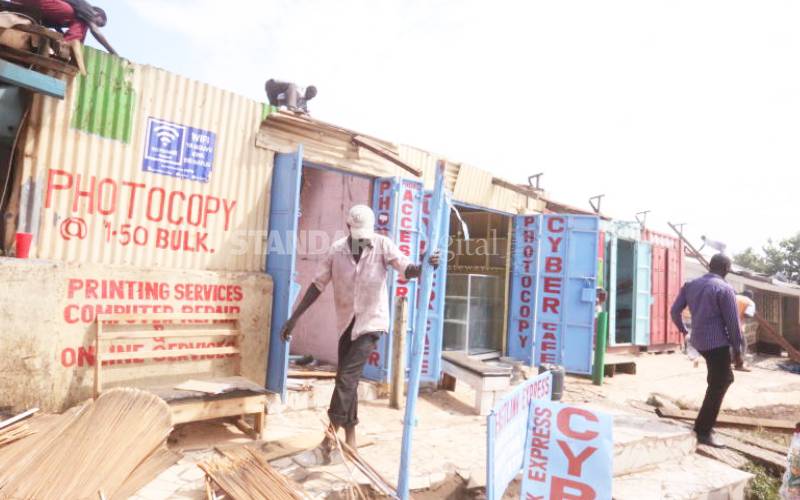 Some 100 traders who are facing eviction from Government land can now breathe easy after the Kisumu County government asked the Agricultural Finance Corporation (AFC) to delay the process.
The corporation had on September 13 issued the traders with a seven-day notice to vacate a one-acre piece located within Juakali, or face forceful eviction.
"You are well aware that Agricultural Finance Cooperation is the registered proprietor of Kisumu Municipality Block 6/391 situated in Kisumu County, and accordingly hold the title thereof. This notwithstanding, you have encroached on, trespassed on, invaded, occupied and continued to utilise the said parcel without the permission, the authority and or the consent of the cooperation," the notice read.
But yesterday County Director of Communication Aloice Ager said Governor Anyang' Nyong'o had approached the corporation with the aim of suspending the planned eviction.
According to Mr Ager, the county government had been in discussion with the Kenya Railways Corporation to acquire 23-acre parcel to settle the affected traders and those who were affected by the expansion of Kisumu Port.
"Our aim was to have a discussion (with AFC) so that the evacuation can be delayed until we acquire the land from Kenya Railways," said Ager.
He admitted that many traders had been affected by the ongoing demolitions, and that the planned eviction by AFC would worsen the situation.
The county is already building stalls near Kenyatta Sports Ground, which could accommodate traders evicted from the streets.
However, the area can only accommodate about 500 people, against the over 10,000 hawkers who are said to be using unapproved spaces within the town.
Ager said they were already enumerating all the traders affected by the demolitions.