Ward reps to discuss Oloo's fate after his arrest over Sh4b deal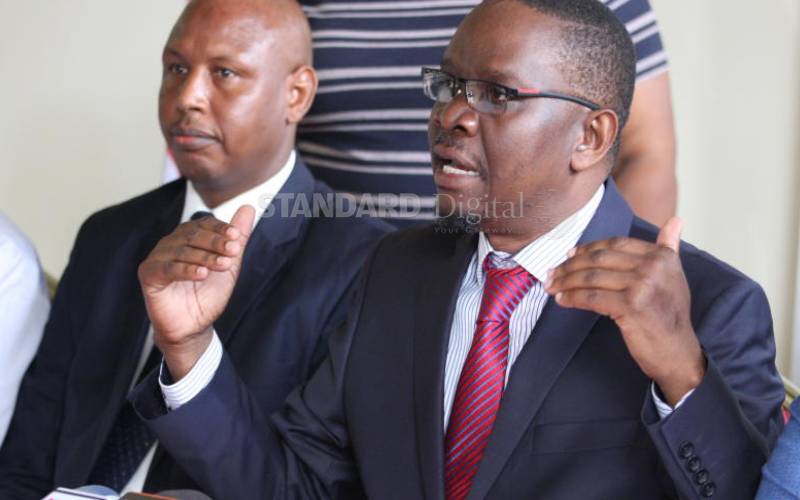 The arrest of Kisumu Speaker Onyango Oloo over Sh4.1 billion tender deal is set to have an impact on local politics.
On Tuesday, ward representatives will resume their sessions after a long recess, with the fate of the embattled speaker topping the list of issues they are likely to discuss.
Mr Oloo has always been integral in national politics and is among the few people known for pulling strings in Kisumu politics since he joined ODM in 2017.
In the past two years, his influence has been felt at the county assembly where he has been able to unite MCAs.
Should he step aside, the MCAs claim fresh leadership battles may emerge in the assembly where Oloo's charismatic style of leadership has brought calm.
"The speaker has been an integral figure in uniting the House and we are just waiting to see if the problems he has to deal with will affect the assembly," said an MCA who sought anonymity.
Make comeback
Oloo contested Kisumu Central parliamentary seat in the last elections but lost to Fred Ouda, but is among the people who have been tipped to make a comeback in 2022.
His arrest comes at a time when Governor Anyang' Nyong'o has also rejected the amendments that the county assembly made on the budget, further plunging the budget-making process into a crisis.
In the last couple of months, Oloo managed to mobilise MCAs to push for the beginning of the construction of new debating chambers as well as construction of a new House for the speaker.
This happened after the administration of Nyong'o failed to allocate funds for the projects in its initial budget proposals that MCAs short down in June.
The stalemate saw MCAs take a staunch stand against the executive with the MCAs vowing not to endorse the budget proposals until their demands are met.
Yesterday, some MCAs as well as the executive downplayed the effect of the arrest of Oloo.
Both Majority Leader Kenneth Onyango and Minority Leader Philemon Juma told The Standard that assembly operations would not be affected even as the assembly makes a decision on Oloo's fate.
"We have a deputy speaker as well as members of the speaker's panel and we believe they will continue with the roles required of the speaker adequately," said Juma.
County Director of Communication Aloyce Ager told The Standard that they are optimistic that the developments that have taken place will not interfere with the budget-making process.
"The speaker does not dictate the things happening at the assembly and is only like a referee. The MCAs will do what they need to do," said Ager.
Other MCAs who also spoke on condition of anonymity expressed fears that the woes facing the speaker are likely to have an impact on the unity at the assembly.