Wandayi calls for new laws to tame corruption suspects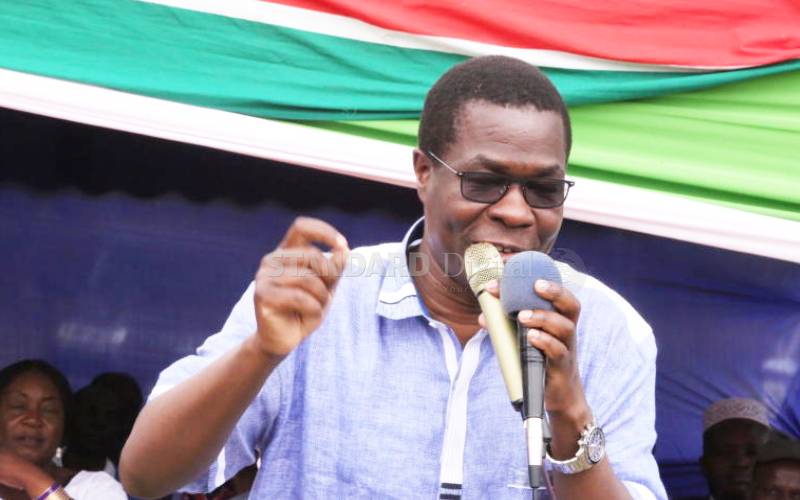 Ugunja MP Opiyo Wandayi (pictured) has urged his colleagues in Parliament to create a new law that would automatically stop public officers charged with graft from continuing to hold office.
The Public Accounts Committee chairman said the law is unclear on what happens when governors are charged with corruption and other crimes.
Wandayi said there is a need to reconcile grey areas between the Corruption and Economic Crimes Act and the Constitution.
He says such areas are exploited by the officers to ensure they stay in office after they are charged.
The lawmaker spoke at Raduodi in his Ugunja constituency where he and Water PS Joseph Irungu launched projects.
Wandayi said whereas a ruling by Judge Mumbi Ngugi was clear on the fate of county chiefs accused of corruption, those accused are exploiting loopholes to continue running affairs.
"We do not have to wait for the Court of Appeal to interpret these grey areas, as the Assembly we can legislate on them," he said.
The PAC chairman said the committee will not go easy on officers accused of graft.
Also present were MPs Gideon Ochanda (Bondo), Jared Okello (Nyando), Jacqueline Oduol (Nominated) and Siaya Woman Representative Christine Ombaka.
Okello told those charged with hunting and prosecuting graft suspects should step up their work and arrest more high-profile officers.
Lawyers are divided on court rulings on whether public officers facing criminal cases should be barred from office.