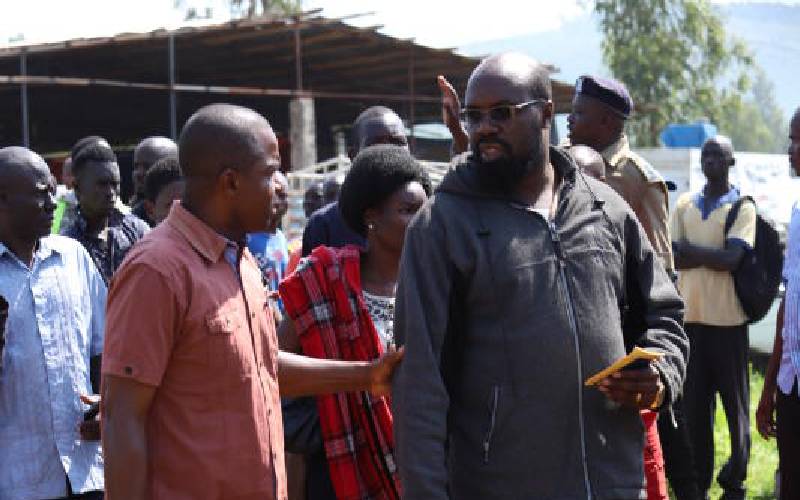 An evangelical church leader yesterday escaped lynching after a mob raided his church to avenge the death of a man, allegedly killed by the clergy's followers.
Lucas Samo Mtishby of the Voice of the Potter's Messengers International Ministries, was whisked away from the scene where the mob had already surrounded him.
According to residents, Vincent Abdallah, a mechanic, was on Monday killed at the church located at Usoma village in Kisumu West when he sought payment for services he had rendered to the church.
Rajab Harrun, a resident, said Abdallah had been repairing church vehicles, and had not been paid for a long time, forcing him to pitch tent at the church.
"When he went to the church, he was told the leader was not in, and that he should return on Sunday.
Read More
But he refused to leave because that had been the chorus any time he went there to get what he was owed," said Harrun.
Hell broke loose after Abdallah threatened to pick some church equipment as collateral, in what he thought would push the church leader to fast-track his payment.
Some four church youth allegedly descended on him, beating him senseless, before calling in the police with claims that they had caught a thief.
Upon arrival, police advised that Abdallah be taken to hospital first, as he was in critical condition.
Abdallah, 63, was pronounced dead on arrival at Jaramogi Oginga Odinga Teaching and Referral Hospital.
News of the death triggered violent demonstrations that saw residents raid the church to retaliate on what they said was a crime not acceptable by a religious body.
They torched one vehicle belonging to the church, while two others were left with damaged windscreens. Church members who were within the vicinity escaped.
"How can the prophet incite his people to kill a man he has known for a very long time, and who has never stolen anything from anybody in this area?" asked Rashid Omondi, another resident.
Yesterday morning the residents went back to the church with the aim of torching it, but were barred by police.
And when "Prophet" Mtishby arrived at the scene to try to explain himself, the angry residents who had been waiting near the church descended on him.
Mtishby, who admitted to knowing Abdallah, denied any involvement in the killing, saying he was away when the incident occurred.
"I was in Uganda for a crusade when I got a call that someone was being attacked in my church after attempting to steal.
But when I discovered it was Abdallah, I directed them to spare him and rush him to the hospital immediately," he said.
Getting justice
He admitted that his youth made a mistake, promising to cooperate with the police in getting justice for Abdallah's family.
"Two of the suspects are with the police. I will not be party to any criminal activity in my church.
I want us to leave this matter to the police to do their professional work and bring the culprits to book," he said.
His pleas, however, fell on deaf ears, as the rowdy protestors began to hurl stones at him before police arrived and took him away.
County Police Commander Benson Maweu said investigation had started.