Give me time to work Nyong'o pleads as critics rise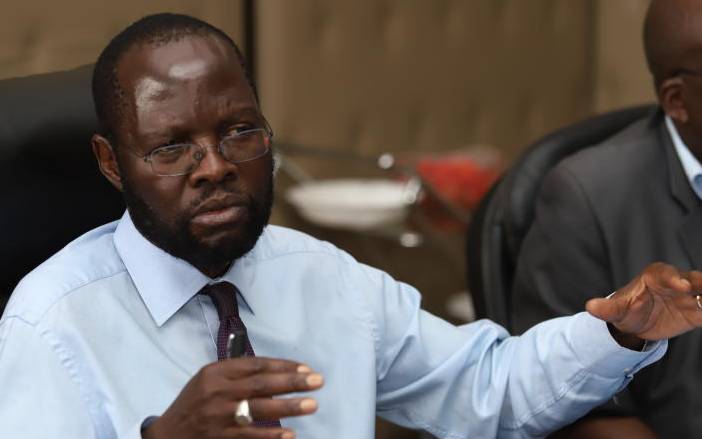 Kisumu Governor Prof Anyang' Nyong'o has pleaded with his political opponents to give him ample time to work and wait until 2022 general elections to challenge him.
Nyong'o was concerned by the growing number of critics against his administration, what he claimed were demoralizing workers and undermining his leadership.
''There are some people out to antagonize the relationship between my government and the people for political expediency. This is wrong. Insults will not build Kisumu,'' he said
The governor claimed that he has good plans to develop Kisumu, which was also tipped as the next economic frontier and so ceaseless bickering may scare investors away.
Currently, there are a number of viable infrastructural projects being undertaken in the county, which required political elites support and not unnecessary squabbling.
They include rehabilitation of Kisumu port at a cost Sh3 billion, establishment of special economic zones in Muhoroni to cost similar amount, repair of city roads among others
He called for constructive criticism likely to make them smart from their mistakes and improve on service delivery as opposed to verbal vitriol or rhetoric.
Nyong'o was speaking during the burial of the late Mzee Joel Orure, at Nyahera village in Kisumu West Constituency, attended by several MPs and local leaders.
During the final rites ceremony, tension packed the funeral as Kisumu Senator Fred Outa led in labeling Nyong'os administration for dismal performance.
He claimed that Nyong'o whom the electorates had high expectation and hope that would deliver was slowly backsliding in his leadership skills.
Outa alleged that the governor had allowed cartels that brought down the former governor Jack Ranguma regime to bounce back at prosperity house at will.
''Unless you guard against these cartels, you will regret later,'' Outa told the governor saying he must re-access the why there is growing resentment in his regime now.
Of late, political differences between Governor Nyong'o and Outa have attracted the attention of leaders in the county, who want them to burry hatchet.
The leaders led by Kisumu West MP Olago Aluoch and Nyando MP Jared Okello told Mr Outa to raise his reservations over the management of the county in the Senate.
Okello told the Senator to take his allegations of misuse of county funds and his opposition to some of the projects being initiated to the Senate.
But they were against attacking the governor in public gatherings and through the media. Chief Administration Secretary for Regional Government Ken Obura was present.
Some of the leaders in Kisumu have already kicked off earnest campaigns for 2022 gubernatorial race and are finding faults in the current administration and airing out.
If this is sustained, Nyong'o fears the dissent may outweigh his development proceeds. Among those angling for governor race include, Olago, Obura and Outa.
Separately, speaking in Nyakach, Deputy governor Mathews Owili also cuationed critics of their regime to tone down.
While Outa has come out gun blazing, Olago and Obura are still quite, although their supporters have sent strong signal in public functions turning out to urge them on.
But they have held their guns, only promising to start campaigns vigorously in 2021.
Meanwhile, local party officials want the leaders to tone down. Led by Samwel Nyabinda, Kisumu branch secretary, they vowed to summon the feuding parties for a truce soon.
Former Assistant minister for Education and ODM County Cordinator Prof Ayiecho Olweny also noted that the governor succession politics was hampering work.
''We want aspirants to hold their horse. Time is not yet up. Let them wait for 2022,'' Olweny said. But Outa vowed to keep Nyong'os regime in check.
He must be held accountable to exercise of power and services to the people and not impunity and or corruption allegations that has rocked his administration,'' Outa said.