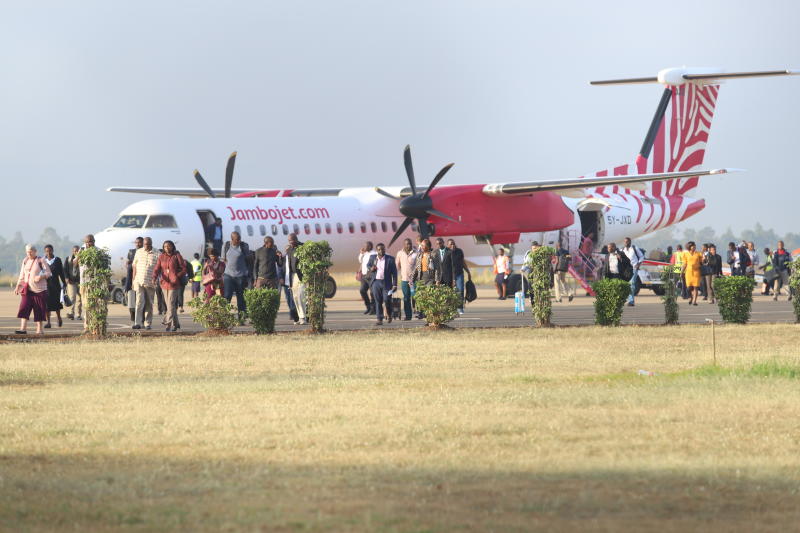 Passengers aboard a JamboJet plane diverted back Nairobi due to poor weather on Tuesday evening finally landed in Kisumu on Wednesday.
The passengers, who landed at the Kisumu International Airport Wednesday morning, described anxious moments as the plane circled above Lake Victoria before the pilot finally decided to fly back to Nairobi.
The more than 70 passengers said although the diversion inconvenienced them, the decision to fly back to the Jomo Kenyatta International Airport may have prevented a disaster.
Passengers who spoke to The Standard spoke of tense and anxious moments after a composed pilot told them he was unable to land due to bad weather.
Some of the passengers said the recent Ethiopian Airline plane crash that killed 157 passengers flickered in their minds as the plane made the detour to Nairobi.
Many said they began praying and making frantic calls to relatives.
"As we approached Kisumu, the pilot announced we would be landing in five minutes. We started to get worried after ten minutes had passed without us landing," she said.
Stella Wanja, who had traveled to Nairobi for treatment said she was calm until when the plane started circling Lake Victoria.
"It flew around the airport once and then began circling above Lake Victoria. Everybody was calm but I could see they were scared," Wanja said.
Wanja, a teacher at St. Peter's Mumias School in Kakamega County, said after more than ten minutes of circling, the pilot announced that it would be unsafe to attempt a landing.
"The pilot told us it was not safe to land and the only solution for the sake of the safety of everyone on board was to return back to Nairobi," she said.
The passengers were booked at Boma Hotel in South C for the night before flying out again Wednesday morning.
The Airline has since apologised to affected passengers.