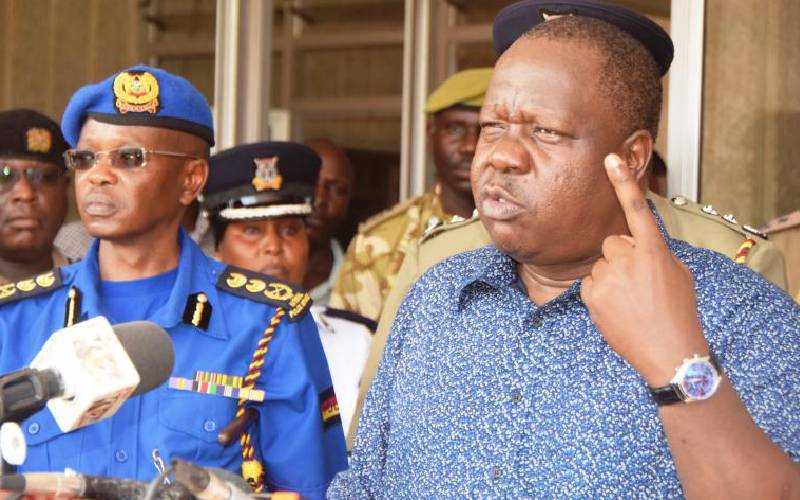 The elevation of Interior CS Fred Matiang'i to chair a committee mandated to supervise government projects has made him a first among equals as the Abagusii's most powerful figure head since the days of Simeon Nyachae.
With no leader having mastered the art of bringing the community under his wing since Mr Nyachae exited the political scene, there are murmurs that Dr Matiang'i could fill the slot. That is if the no-nonsense lecturer turned Cabinet Secretary goes for it.
Fractured deeply by clan politics, the Kisii region has had no leader who commands community backing apart from the late Zachary Onyonka and Nyachae who quit active politics in 2007.
But from the avalanche of congratulatory messages, it is evident that the CS, who has become one of President Uhuru Kenyatta's most trusted officials in government, may have come of age.
"The community has indeed had a vacuum in political leadership since the retirement of Nyachae but the sure rise of Matiang'i, albeit from the technocratic wing, is now proving to be a good development for the Abagusii," says Abagusii Council of Elders chairman James Matundura.
"He has proved he can be relied on to carry on the leadership mantle," he says.
Kisii Governor James Ongwae says: "We are together and ready to work together with the national government in realising our dreams. As a community, we are proud for the new achievements."
The only other powerful personality from the region is Chief Justice David Maraga. However, the nature of his job does not allow him to engage in a popularity contest of any nature.
For more than a decade, former Nyaribari Chache MP Nyachae was the undisputed king of Gusii politics and his Ford People party was the most popular in the region.
Incidentally, Matiang'i is a student of Nyachae having worked with him closely in 2002 when he ran for President.
And like Nyachae whom Kibaki relied on to get support in the 2007 election, President Uhuru Kenyatta chose Matiang'i as his point man in Kisii during the 2017 election.
Kitutu Chache South MP Richard Onyonka, who has in the past said the community spokesman title should go to him, however, differs with his colleagues.
"That does not mean that CS Matiang'i is inconsequential. He becomes one of the few respected leaders in the community but it is a long shot being the community spokesman."