'Cartels' behind influx of beggars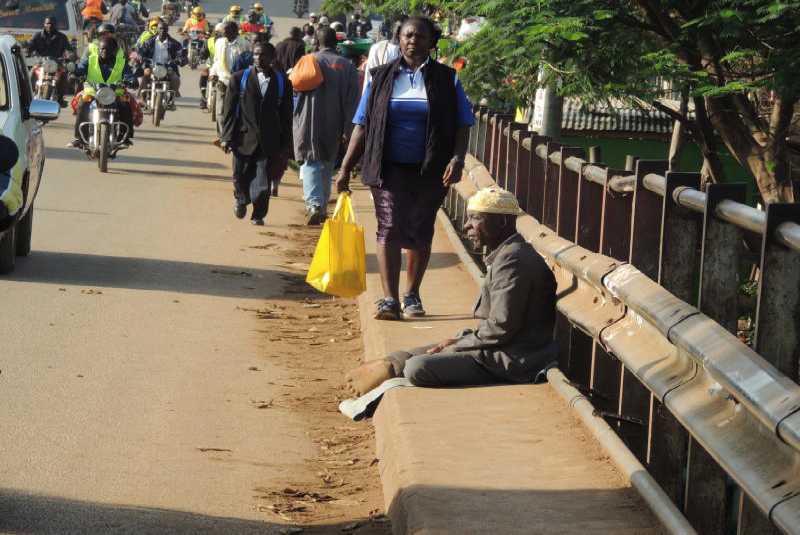 Two MCAs want police to investigate an extortion ring running its trade through beggars.
Bernard Ochuodho and Esther Onana fear that the influx of beggars in the county, some from neighbouring Tanzania, is an indication that some unscrupulous individuals are using the 'beggars' to make quick money.
Some of them are faking disabilities to earn sympathy from the public, they said.
The leaders claimed that some foreigners drop the beggars at strategic locations in the town and return later to collect money from them.
"These people have been spotted in Migori, Kehancha, Isebania, Awendo and Rongo towns at dawn dumping disabled persons on the streets to collect money on their behalf," said Ochuodho.
He went on: "From the beggars' appearance, it is like the money they collect on a daily basis is not helping them at all."
Ms Onana said the situation was getting worse with the gang now recruiting children into their extortion business.
Harsh weather
She pointed out that in Migori town sick and disabled persons are placed at River Migori bridge early in the morning.
"They endure harsh weather all day without food collecting money for their masters."
The two MCAs, who represent the interests of the disabled, noted that those begging in streets are not registered with the local chapter of People Living With Disabilities (PLWD).
Migori County Police Commander Joseph Nthenge told The Standard that he had received reports that some Tanzanians are behind the business.
"Let those ferrying the beggars to the country be warned that they will be arrested... and they plus the people they are using to collect money will be deported," he said.
Nthenge recalls that Kenyan authorities arrested six disabled Tanzanians begging in Migori two months ago and deported them.