Obado could face more gun charges as prosecution press for his detention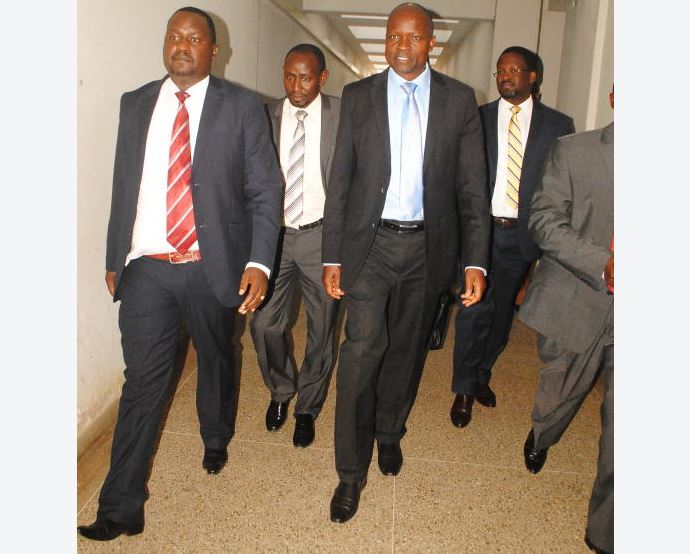 Besieged Migori Governor Okoth Obado could face more serious charges if investigations confirm that three firearms recovered from his home had been used to commit crimes.
This was one of the reasons advanced by the Director of Public Prosecutions yesterday while seeking to have him detained for 15 days for allegedly possessing illegal guns and several rounds of ammunition.
Coming just three weeks after spending more than a month in prison in connection with the murder of his girlfriend, Sharon Otieno, Obado's woes seemed not to be ending soon amid investigations by the Ethics and Anti-Corruption Commission over Sh2 billion fraud at Migori County.
Dramatic arrest
Obado yesterday fought back the prosecution's narrative on the gun saga and accused the DPP of a witch-hunt, stating that his arrest at an investor's function on Wednesday was proof of bad faith and intention to subject him to public shame, humiliation and embarrassment.
His fate now lies in the hands of Kibera Chief Magistrate Joyce Gandani, who could either set him free or send him back to detention today.
The DPP, through Senior State Prosecutor Catherine Mwaniki, appealed for more time to unravel the mystery behind the weapons recovered at Obado's rural home in Rapogi in Migori County.
Ballistic experts
"We want to know if the firearms have been used in other crimes and if confirmed, he will face more charges. This is the reason the prosecution is asking for more time for investigators and ballistic experts to comb his home and the firearm's records," said Ms Mwaniki.
Obado was first taken to Milimani Law Courts at 7.30am and then relocated to Kibera before being whisked away to Gigiri Police Station under tight security to spend the night.
According to Mwaniki, the authorities suspect the governor was in possession of the firearms and 57 rounds of ammunition without valid certificates and they wanted to detain him longer to establish the real owners and record statements of key witnesses.
"He could not give satisfactory accounts as to how the guns came to his possession when asked. Investigations are ongoing to establish the real licensed owners and to arrest other suspects who might be involved in the crime," said Mwaniki.
The prosecutor argued that being an influential person, Obado was likely to interfere with investigations and potential witnesses, some of whom might be his relatives and security guards.
Obado, in his defence, denied having the firearms in his home, claiming that one was planted by EACC detectives who were searching his home in relation to the Sh2 billion corruption scandal on Tuesday.
"I was informed by my bodyguard that two guns were found in a metal suitcase during the search at the guardhouse within my rural homestead. The bodyguard told me one of the EACC officers emerged from a room with another gun which I completely know nothing about," he said in his affidavit.
According to Obado, he had not set foot in his Rapogi home since he was released from remand in relation to Sharon's murder after the judge issued tough bail conditions that he should not come within a 20 kilometre radius of the border with Homa Bay County.
Spirited fight
His lawyers, Rodgers Sagana and Cliff Ombeta, put up a spirited fight to ward off the prosecution's demand that Obado be detained for 15 days, arguing that his arrest during an investors 'meeting at a Nairobi hotel was meant to humiliate him.
Mr Ombeta submitted that the prosecution had not submitted any compelling reason to warrant detaining Obado, and that he would comply with any conditions granted by the court to gain his freedom.