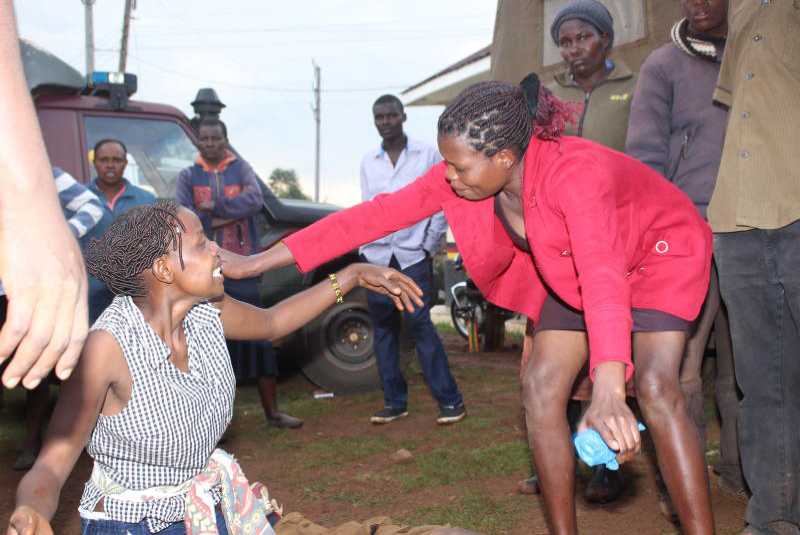 Inspector General of Police Joseph Boinnet has ordered immediate investigations into the killing of two civilians and a police officer in Kenyenya, Kisii County.
The deaths resulted from a bloody clash between the police, members of the public and matatu crews on Wednesday evening.
Mr Boinnet said the investigations would be conducted by the Internal Affairs Unit of Police and those found culpable would face the law.
As the IG called for investigations, a video clip recorded by a witness emerged showing three police officers from Kenyenya Police Station, one wearing jungle fatigues, chasing after a matatu.
Read More
At one point, the man behind the wheel, said to be the conductor, stops the vehicle and jumps out, with the officers in hot pursuit. They catch up with him and one of them hits him with a blunt object, rendering him unconscious.
The three officers are then seen carrying the unconscious man to their van. A few minutes later, residents are seen carrying the man's body from Kenyenya Hospital to the police station, and chaos erupts between the police and the locals.
Police from more than six stations led by four Officers Commanding Police Station (OCPDs) were called in for reinforcement.
Angry residents said regular and administration police had formed a habit of collecting bribes from matatu operators.
"There are road-blocks everywhere in Kisii. The idea of chasing after matatus is primitive and uncalled for," said Peter Asiago.
A Standard Six pupil returning home from school was shot in the legs during the confrontation. He was scheduled for an operation yesterday.
Boda boda
The conductor was identified as Paul Omare, 40. Boda boda operator Hesborn Onkona, 27, was also killed. The deceased police officer was identified as Corporal Tom Onyango.
Witnesses said the second civilian was killed when police confronted the rioting mob that was protesting the death of the matatu conductor.
Governor James Ongwae, his deputy Joash Maangi, and MPs Silvanus Osoro (South Mugirango), Richard Onyonka (Kitutu Chache South), Jimmy Angwenyi (Kitutu Chache North) and Sam Ongeri (senator) condemned the incident.
"This is clearly an unfortunate incident because Kisii people are peace-loving. We expect police to behave professionally and exercise some restraint," they said in a joint statement.
Bomachoge Chache MP Alpha Miruka appealed for calm.
"It's shocking that the people who are supposed to be law enforcers have turned into law breakers. We will ensure that justice is served for the families whose loved ones died in the scuffle," said the MP.