How tiff between two ministers may have handed our islands to Uganda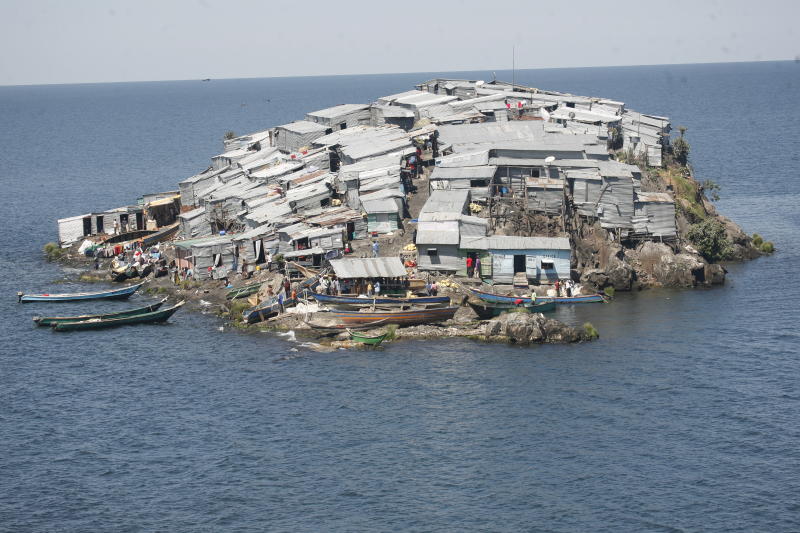 A tiff between two Cabinet ministers 26 years ago may have given Uganda a blank cheque to take over some treasured Kenyan islands on Lake Victoria.
And to date, the controversy on ownership of these islandshas sparked diplomatic tensions between the two countries, and has been a source of suffering for Kenyans living there.
The Saturday Standard has established that contradicting statements from then Labour Minister Peter Okondo and his Foreign Affairs counterpart Wilson Ayah -- both now deceased -- over ownership of Sigulu island gave Uganda ammunition to take over other islands believed to be on the Kenyan side of Lake Victoria.
It all happened in 1992 when Mr Okondo, a fiery politician from Busia, sailed to Sigulu to find out about claims that Uganda was trying to take over the island.
In the company of the Busia District Commissioner Simon Chaacha, Okondo led Kenyans living on the island in hoisting the Kenyan flag.
Some fishermen who accompanied Okondo to the islandrecount how his brave gesture elicited a diplomatic row between Kenya and Uganda, forcing Mr Ayah to intervene.
Ayah issued a ministerial statement from Nairobi disowning the island. He said the island was Uganda's and criticised Okondo for creating unnecessary friction between the two states.
The minister also said two other islands -- Wayasi and Hama, earlier believed to be in Kenya -- also belonged to Uganda.
Elderly fishermen like Edward Osunga, who were there then, say this was the beginning of the boundary disputes on the lake after Uganda took over the three islands.
Wilfred Onyango and Vincent Omore were only 14 and scouts from Osieko Secondary School in Budalang'i when they accompanied Okondo to the island, which Uganda had laid claim to, to hoist the flag.
Today, Uganda is not only policing most of the islands in the lake but has taken over Migingo island in Migori County, whose controversy has become the face of a diplomatic row between Kenya and Uganda.
The tussle over Migingo has been dramatic and worrying. At one time 10 years ago, it looked as if the two countries could go into war after Uganda moved its heavily armed military personnel to the island while Kenya dispatched a platoon of police officers to guard her citizens living there.
'Uganda's fish'
Former President Mwai Kibaki, his successor Uhuru Kenyatta and opposition leader Raila Odinga have repeatedly said the island is firmly in Kenya.
But in an interesting statement years back, Uganda President Yoweri Museveni said although the waters around Migingo could belong to Kenya, the fish in it belonged to Uganda.
Uganda has also hoisted a flag on the island and has been arresting Kenyan fishermen operating around there over claims of trespass. This is despite the fact that Kenya has declared the island lies on her territory. Ugandan authorities recently forcibly shut down a kindergarten run by Kenyans on the island.
Besides Migingo, Uganda has had a domineering presence in other islands in Kenya such as Sigulu, Hama, Lolwe, Remba, Ringiti, Oyamo and Ndeda. It is only the two big islands – Rusinga and Mfangano – in Homa Bay County that can be said to be comfortably under the control of the Kenyan government.
As a result, hundreds of fishermen have been arrested and fish worth millions of shillings and fishing gear confiscated by Ugandan military and police officers.
Kenyan authorities only talk of dialogue and plead for release of the fishermen.
Last month, three Kenyan Administration Police officers and six fishermen were arrested and detained at Namaingo by Ugandan soldiers for allegedly trespassing into their waters.
The officers and fishermen were later released following intervention of top security officials from the two states.
According to the fishermen, Ugandan soldiers terrorise Kenyans on the islands and venture all the way to mainland beaches with little or no resistance from Kenyan security forces.
The Kenyan residents of Sigulu have since the early 1970s become naturalised Ugandan citizens, and have their representatives in Ugandan Parliament and other local authorities in Samia Bugwe and Bugiri districts of Eastern Uganda.
The Kenyan government then did not lodge any diplomatic protest and the matter just fizzled out.
The seizure of Sigulu has since divided many Banyala people into the two countries, with some remaining at Port Victoria on the Kenyan mainland, while half of their families became Ugandan citizens against their wishes.
Fridah Yagomba, 90, from Obaro Sub-location in Busia County largely blames the successive regimes since independence of neglecting individuals living on the shores of the lake.
"Uganda has been exploiting that neglect to claim territory that has always been Kenyan and convert some desperate Kenyans into Uganda citizens," she says.
Mrs Yagomba, who lived in Uganda for more than two decades, says no Ugandan owns land on the islands.
She says there is Siro island, which is a Luhya word for night. The rocky island was used by fishermen to camp at night after casting their fishing nets.
Colonial boundary
"This tells you why Siro, Lolwe and Wayasi cannot be Uganda settlements," says Mrs Yagomba, adding that there is a colonial boundary popularly known as 'Singla' (Luhya word for signal).
"The signal had lights which were used to direct ships and boats at night but it is unfortunate that they were vandalised by people who were looking for mercury."
Other than Singla, Mr Osunga, a fisherman from Budalang'i, says there is also Musambwa, which is a Luhya word for rock. It is marked with letters 'K' and 'U' to indicate which parts belong to Kenya and Uganda.
Walter Tende, whose father served as the area chief in 1980s, says he was born in the area.
"The islands belong to Kenya. I know that because I was born in Yimbo and some of our families have land in the islands to date," he says, adding that they lived peacefully until Uganda started laying claim to the islands.
Previous efforts to redraw the boundary stalled after preliminary results showed the disputed Migingo islandwas 510 metres inside Kenya as was evidenced by the colonial maps dating back to 1926.
Former Migingo Beach Management Unit Chairman Juma Ombori says the arrival of Ugandans on the island was gradual and well planned.
"They began by collecting taxes from fishermen and arresting those they claimed were trespassing into their side of the lake. They collected Sh3 per kilo of fish. Then one day we woke up and found they had hoisted a flag," says Ombori.
Homa Bay County Commissioner Irungu Machiar has promised they will construct a new police post on Remba island to boost security inthe area.