Mining on, a day after tragedy struck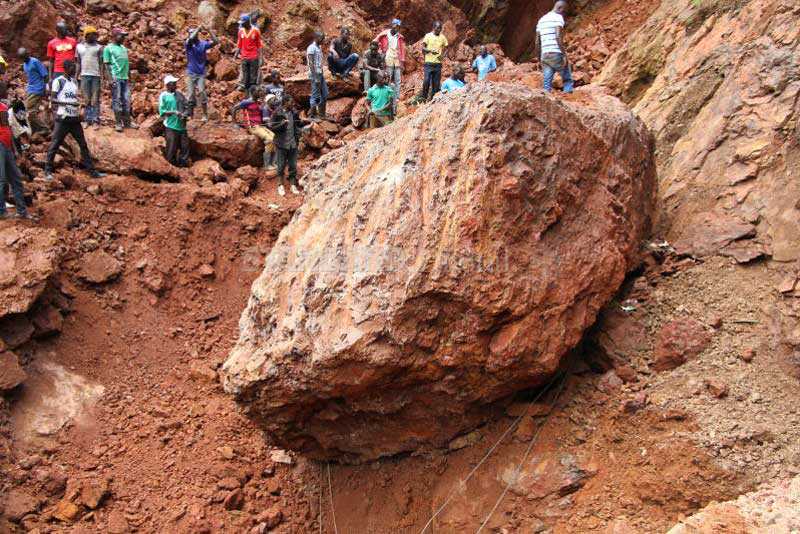 They wake up at the crack of dawn, seven days a week, and spend agonising hours courting danger in the treacherous mines of Nyatike.
Most of the times they return home exhausted and grateful to God for sparing their lives. Sometimes they do not, and instead end up in morgues. Yet for the gold and copper miners of Nyatike in Migori, life must continue.
Barely 12 hours after six of their colleagues were buried alive in the pits on Wednesday, brave gold diggers trooped back to the many mines that dot the semi-arid sub county, as if nothing had happened.
They often work on empty stomachs for long hours, only to return home empty handed, if they are lucky to escape the falling debris and falling walls.
"These gold pits have claimed many lives, and are likely to continue doing so, but mining must continue because it's the source of our livelihood," says David, whose uncle David Otieno died in the Wednesday tragedy.
He adds: "Yes, without these killer mines we will not put food on the table, we will not pay school fees for poor children. My uncle died in the mines while struggling to raise money to feed his family."
The Wednesday tragedy was one of the many such incidences witnessed in Nyatike in the past decades.
To the villagers in this semi-arid region bordering Tanzania, misery and death in the mines have almost become a way of life.
Daylong investigations by The Standard established that the Nyatike miners work under life threatening circumstances. When they do not die or sustain grave injuries, they inhale dangerous gases from chemicals, which exposes them to life threatening diseases.
Migori Governor Okoth Obado, who spent hours trying to coordinate the search for the survivors, confirmed that the Nyatike miners were working under harsh conditions. He said the miners use rudimentary equipment.
Interviews with the miners painted a tale of misery and haplessness. It exposed the sad story of a people who walk into death traps daily to earn a living.
The Migori County Chief Officer for Environment and Disaster management Joshua Ngwalla described the mines in Nyatike as death traps.
He says it has become difficult to manage artisanal gold and copper mining in the area because of the amorphous nature of the miners.
He said most of the accidents have occurred in condemned mines that were abandoned by European miners in the 1950s and 1960s.
"These condemned mines have been declared dangerous, but the locals still risk their lives here. The shafts are weak and the pits are extremely dangerous," said Mr Ngwalla.
He said most of the diggers do not belong to the only registered Miners Cooperative Society in the county, making it difficult to control their activities.