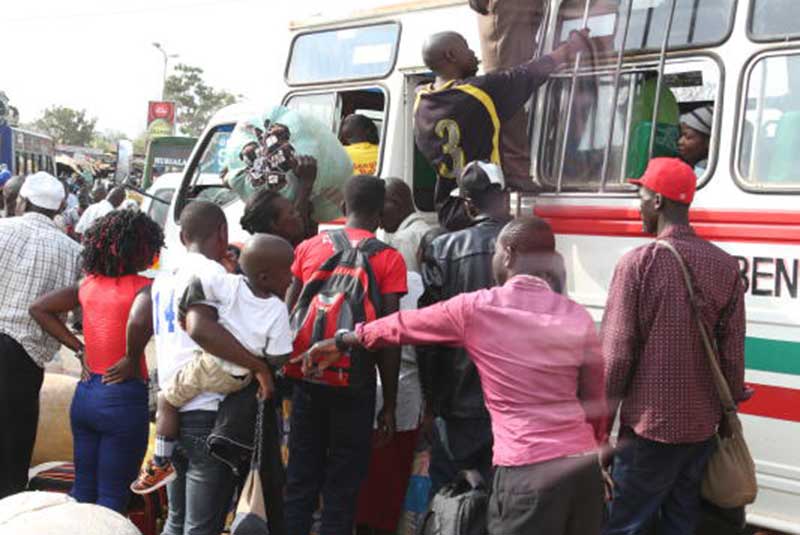 Bus parks serving Kondele, Manyatta and Nyamasaria in Kisumu witnessed the highest level of traffic jams never seen before on Christmas day.
Traffic officers on patrols had a hectic time controlling vehicles driving in and out of Kisumu City.
The situation was even complicated by motorbike riders and Tuk Tuks that made the drive to the lakeside city even tougher. The traffic paralysed movement for hours as commuters rushed to get transport to leave town. In some instances, traffic police were joined by matatu touts who came in armed with huge clubs, threatening and even hitting vehicles to move fast.
Some of the city-county Askaris retreated early for Christmas and were reportedly absent from the scene leaving motorist at the mercy of police and touts. This also added to the traffic mess. Several motorbike riders were arrested for disrupting traffic flow.
Traffic boss Andrew Naibei said over 20 people including motorists were nabbed with traffic related offenses. ''We will arraign them in court with preferred charges,'' he said
Read More
And in most of the popular joints and restaurants, there was a sea of humanity, even when it was earlier imagined that the occasion would be low keyed. John Omollo, a reveler who spoke to The Standard, said he was saving for the day and chose to spoil himself with a bottle of cold Tusker. ''I don't want any interview now. Just taking beer, eating and drinking,'' he said as he sipped a cup and yelled- Resist interview.
Omollo is not alone. He was among thousands of residents who celebrated Christmas making merry after spending the morning part of the day in church.
Kennedy Onyango, a parent whose child excelled in the recently released KCSE, said he would rather save more money and spend on what is necessary and cut back on drinks during Christmas. ''After treating my family to specialized diet why waste more cash in reckless drinks and parties with friends. Now choices have consequences,'' said Onyango.
And for children, celebrations was as usual. They jammed a number of entertainment joints where they were treated to the traditional photo taking sessions.
Walter Otieno a boat owner said he made up to Sh30,000 this year up from the Sh16,000 he made during the last festive season in 2016.
Fish traders also recorded higher sales as visitors from Nairobi and other counties flocked Dunga , Lwangni and Tilapia beach to eat fish. Maurine Onyango and Victor Ouma said they had served many customers. They declined to divulge how much they had made. ''No we have made sales, all else is secret, Thanks,'' they told The Standard team.