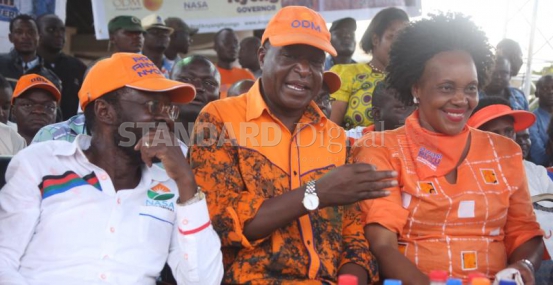 Kisumu Senator Anyang' Nyong'o will ensure that some of the top county leaders are prosecuted if he takes over the governorship in the August 8 General Election.
Without giving names, Prof Nyong'o and Nyando MP Fred Outa said the leaders, who they claimed had looted county resources, would pay for the corruption they alleged had been rampant over the past five years and which had derailed development in the county.
Mr Outa is contesting the senatorial position.
Money misused
Nyong'o, who is campaigning to unseat Governor Jack Ranguma, said he had evidence that a lot of money was misused by some county officers.
Speaking during campaigns at Jomo Kenyatta sports grounds, the senator said compared to other counties that received the same amount of money from the national government, Kisumu had performed dismally.
Nyong'o, who chairs the County Public Accounts and Investments Committee in the Senate, said he had intelligence on the corruption cases in the county.
"We know the hotels they have built and the houses they have bought, and we will recover them and resell them and return the money to the public as they head to Kodiaga Prison," he said.
Mr Ranguma, who has defended himself against claims of corruption, reiterated that all the audit queries against his government had been responded to satisfactorily.
"Had I stolen any money, I would be facing charges in court by now. But all the corruption claims are propaganda for people who have no agenda for Kisumu," said Ranguma.