'Bizarre and bitter' Malik under fire over fake Obama birth certificate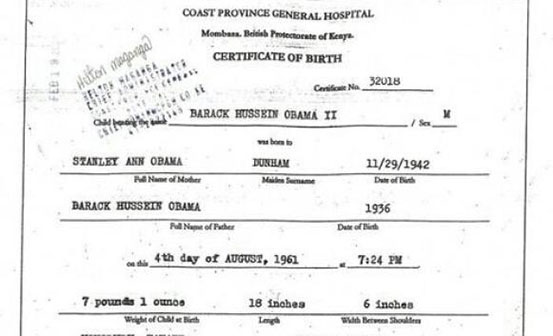 The brother of former US President Barack Obama, Malik, has been dismissed as "bizarre and bitter" after he posted a fake birth certificate purporting that Obama was born in Mombasa, Kenya.
The Obama family Saturday described Malik's post as "pure madness" and a work of a "frustrated man seeking global attention".
"I want Kenyans and the international community to ignore this man. His outbursts are a disgrace to the family," said Obama's uncle Said Obama in Kogelo, Siaya County.
The UK newspaper, Daily Mail, described him as "malicious and attention-seeking Malik". It's online publication (dailymail.co.uk) categorised Malik's series of tweets as "bizarre and bitter".
Malik has sustained his open hatred for his brother who ruled the US for eight years and at whose wedding with Michelle, he was the best man.
On Thursday, he uploaded a birth certificate on Twitter claiming it was Obama's, showing he was born at the Coast Provincial Hospital in Mombasa in August 1961. He wrote: "Surely what is this? So True."
During US presidential campaigns last year, Republican candidate Donald Trump once publicly claimed that President Obama as not an American citizen, a claim the government dismissed.
The US Constitution bars citizens who were born abroad from the presidency.
Daily Mail wrote, "In an effort to put the matter to rest, the Obama White House released a copy of his long-form birth certificate in 2011." It declared the certificate Malik posted a forgery.
Said told The Standard on Sunday that Malik, who endorsed president Donald Trump, was always tweeting derogatory statements against his family as a strategy of raising funds for his foundation, which ironically is named after Barack Obama.
Saturday, after the Daily Mail wrote a hard hitting story on him, Malik tweeted: "Malicious Malik: Daily Mail is Super Cuck; Newspaper Top grade."
In other tweets, he praised president Trump, saying: "President Trump is Elvis Presley reincarnate. The King himself."
In another, he asked for donations towards his Obama Foundation and attacked those who were unwilling to support him.
"Crooked, Dishonest and Corrupt Media, Won't say anything about my efforts to raise funds for needy students," he twitted on March 3.
He was at it again on March 5, "What is Barack Obama going to do that he could not do for his family?