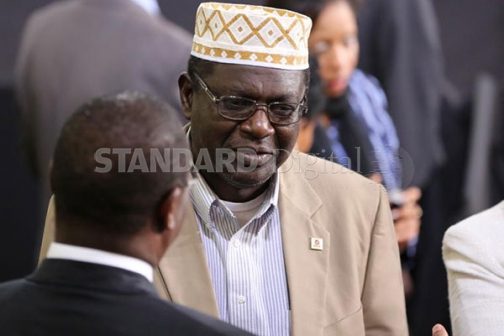 SIAYA: A daughter to Malik Obama has reported him at the Siaya County children's office for alleged assault and frustration.
According to the county director of children affairs Humphrey Wandeyo, on 22nd July 2016, in company of a motorcyclist Malik's daughter Khadija Akinyi reported him and her step mother Ziada Adhiambo for assaulting and frustrating her at their Kogelo home.
The 14 year old girl who had escaped from home to live with a neighbour told the children officer in charge that she was physically assaulted and denied food by her stepmother and her father.
"She was brought to our offices in the company of a motorcyclist whom had been sent by a neighbour to file a report. She also revealed to us that her biological mother went to live in Saudi Arabia," said Wandeo.
Mr Wandeo said that on receiving the complaint from the minor they summoned her parents to their offices on 26th July 2016 for interrogation but they did not show up as expected.
Read More
The officer further stated that instead the young Khadija who is in class six came back alone with just a letter she had been given to summon her parents.
"We referred her to the police's children's desk to record a statement on the same." added Wandeo.

When contacted by The Standard, Malik dismissed the claims as nonsense and stated that he had not assaulted his daughter.
Malik who is US president Barack Obama's half-brother said he was away in the US and had just arrived in Kenya on Wednesday morning.
"That is all nonsense, I have not assaulted my daughter in any way. In fact I have been away in the US. Those are lies by enemies," said Malik.
Siaya Deputy OCPD Michael Wanyoike denied receiving any reports from the young girl Wanyoike also confirmed that the girl is currently living with her grandmother mama Sarah Obama in Kogelo village.
The OCPD said that reports from his office indicate that the girl is naughty and has a history of cheekiness.
"The child was just given normal punishment by her parents. They had a small normal disagreement but she does not want to live with her step mother according to the reports we have. She is also going to school normally but now stays with her grandmother," said Wanyoike.