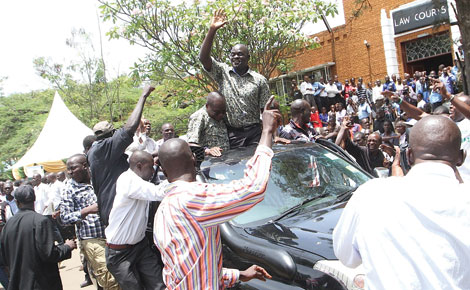 Jared Okello addresses supporters after winning an appeal case challenging the election of Nyando MP Fred Outa. [PHOTOS: TITUS MUNALA AND COLLINS ODUOR/ STANDARD]
By KURIAN MUSA
Kisumu, Kenya: Migori Governor Okoth Obado and Nyando MP Fred Out lost their seats after the Court of Appeal sitting in Kisumu nullified their election.
It was also an indictment on the Independent Electoral Boundaries Commission (IEBC) after the court cited irregularities that marred the elections and questioned whether there were any lessons learnt from the 2007 elections that were followed by widespread violence.
Mr Outa suffered another setback when a three-judge bench recommended his prosecution for bribery to the Director of Public Prosecution, IEBC and Speaker of National Assembly.
Mr Obado, who was the only governor in Nyanza elected on a Peoples Democratic Party (PDP) ticket said he will appeal the ruling at the Supreme Court.
IEBC was blamed for gross errors that culminated in constitutional breaches which affected the credibility of the results.
"Those breaches were unjust to the candidates, the electorate and did nothing to inspire confidence in the general public," said Justice Onyango Otieno.
Justices Otieno, William Ouko and Sankale Kantai ordered IEBC to pay Obado and the petitioner Edward Oyugi costs of Sh1 million each.
"We hold that the election of Migori County governor was badly conducted and that the irregularities affected the results," Otieno said.
The judges faulted the decision of Homa Bay High Court judge, Lady Justice Esther Maina for failing to acknowledge numerous errors in vote tallying. They said the errors affected the outcome of the election that they termed a flawed process.
"We do not understand how the learned judge having come to a conclusion that the overall results were not accurate, that there were several errors caused by negligence and casual treatment of such an important exercise, and in view of the uncertainties in figures would make a 360 degrees turn to find that it was free and fair," he said.
The judges stated that IEBC's conduct in the Migori election was similar to the defunct Electoral Commission of Kenya (ECK)'s election in 2007.
"It appears to us from the kind of irregularities and mistakes committed in Migori gubernatorial elections that the very same mistakes noted by the Independent Review Commission on Election Violence in Kenya (IREC) or Krieger Report were re-enacted by a
different cast. This begs the question whether there were any lessons learnt from 2007 General Election," Otieno said.
Irregularities
They pointed out that IEBC and the Returning Officer failed to comply with Election Regulations Act which elaborates the process of vote counting, rejection of ballot papers, recount, tallying and announcement of results and final tallying.
IEBC blamed the irregularities on human error caused by fatigue.
"Although the irregularities were widespread, in our view they did not seem to target any specific candidate. But it cannot be the position of the courts that human error, deliberate, unfortunate or even honest be treated as an excuse for an incompetently conducted election leading to unsatisfactory outcome," Otieno said.
Another three judge bench comprising Justices Phillip Waki, David Maraga and Sankale Ole Kantai heard Outa's case. The judges produced a certificate and report indicating that they complied with Section 86 (1) and 87 of the Elections Act respectively in the appeal filed by Jared Okelo.
Mr Okelo filed the appeal after a High Court in Kisumu dismissed his election petition.
The report indicated that Outa was engaged in bribery during campaigns preceding March 4, 2013 elections.
Witnesses in the case accused him of the former MP of issuing a Constituency Development Fund (CDF) cheque of Sh1 million at Ayier Gweng Community Dam, and asked people to vote for him. They also said his CDF chairman presented Sh500,000 cheque to voters at Sare Primary school before Outa addressed them.
The report was copied to Chief Justice Willy Mutunga and President of Court of Appeal Kihara Kariuki.
The court also found Outa guilty of using public resources to campaign by having CDF treasurer Geoffrey Yogo as his chief agent during campaigns. They stated that Outa was aware it was contrary to public officers Act which he participated in enacting in 2003.
"We are satisfied that by getting Yogo to sign his nomination papers as his supporter and to campaign for him he also committed an election offence of suing public resources," he said.
The court however dismissed Okelo's claims that nomination of Outa to ODM was flawed.
Outa was ordered to pay Okelo Sh3 million as costs of the suit, with the Appeal cost at Sh2 million and Sh1million for the High Court.