More police deployed after 12 killed in Marsabit clashes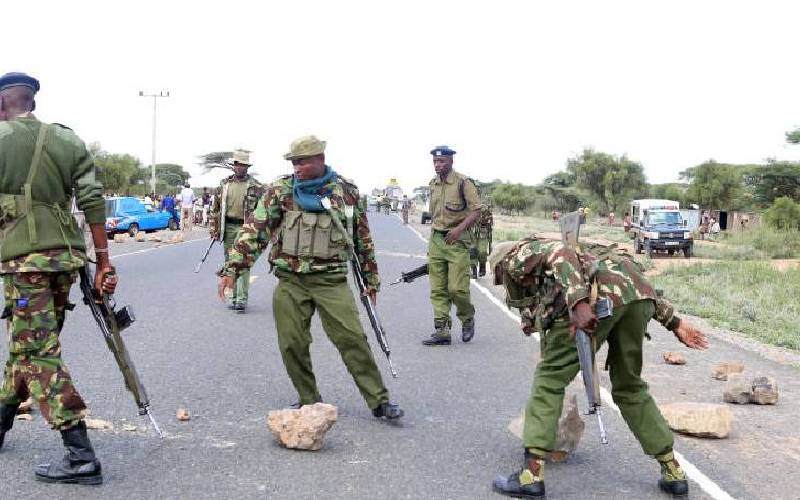 The national government is working round the clock to restore calm in Marsabit County.
National Police Spokesperson Bruno Shiosho has told The Standard that security had been enhanced with more patrols.
This comes after 12 peole were killed and scores wounded in two separate attacks on villages in Saku, Marsabit County on Saturday morning.
Shiosho said the attackers who drove off with hundreds of animals in the two incidents left 12 people dead.
"Fortunately, calm has been restored. Security has been enhanced with more patrols and as we speak, all the stolen animals have been recovered too," said Shiosho.
According to Shioso, in the first attack, armed attackers raided a manyatta in Jaldesa area at around 5:00 am and made away with about 1000 head of cattle and 300 goats and sheep.
Police immediately responded and pursued the attackers who escaped and left the stolen animals following a gun battle with the security agencies. The incident, he said left eight people dead and three injured.
In the second incident, another group of bandits attacked another village in Kubi Qallo and stole about 800 heads of cattle and 1,500 goats and sheep.
"In the shootout, four other people lost their lives, when police got the information they went to the area and with the help of locals recovered the stolen animals," he added.
Among those killed is a local politician who was eyeing an MCA seat at Jaldesa/Sagante ward in next year's general election.
He said all the police officers that were injured are in stable condition.
Last month, another six people were killed in Badassa, about 15 kilometres from Marsabit Town.
The six were part of 17 people who were travelling in a lorry before they were attacked by armed gunmen, leaving six dead and 11 others hospitalised.
The deaths jolted the community but Interior Cabinet Secretary Fred Matiangi issued a warning saying the government would move swiftly and act upon the perpetrators.
Scramble for land in the mountainous Saku Constituency has been identified as a major cause of the conflict in the volatile counties.
Saku Constituency is the headquarters of Kenya's largest County but has a desert at North Horr and a tropical climate in Saku.
Police sources reports indicate the Borana, Gabra and Rendille all want to occupy Saku, because the place is arable.
This scramble has often resulted in the loss of life, destruction of property, cattle rustling and rising tension in the area.