Boost for Raila as North Eastern backs 2022 bid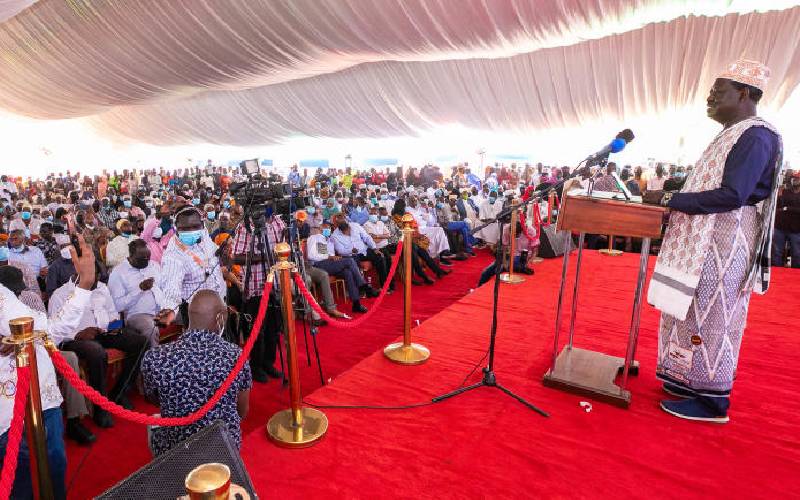 Three governors from the North-Eastern region have thrown their weight behind opposition leader Raila Odinga's presidential bid in the 2022 General Election.
Garissa Governor Ali Korane, his Wajir counterpart Ahmed Mukhtar and Isiolo's Mohamed Kuti declared their support for the ODM leader.
"We know where the president's heart is and we are focused on that.
"I am leading in this agenda and we will make sure the next president is the former Prime Minister," Korane said.
The trio had earlier attended a delegates' meeting in Garissa, where supporters from Garissa, Wajir, Mandera, Isiolo, Marsabit and Mandera also made their resolve known.
Governor Korane said the leaders are focused on marketing Raila in the region and that he is actively involved in advancing their agenda.
Citing Raila's track record, Korane said a Raila presidency will trigger confidence, stability and consequently economic growth.
"The president has done a lot in many areas and when Raila comes in next, I foresee a stable and developing Kenya. We know what he stands for in terms of devolution and independence of institutions," he said.
Other notable figures working with Korane are Treasury CS Ukur Yatani and Mandera deputy governor Mohamed Arai. Former governors Ahmed Abdullahi (Wajir) and Godhana Dhoyo (Isiolo) are also seen as to be backing a Raila presidency.
Sources have intimated that two meetings between Raila and Governors Ali Roba and Mohamud Ali maybe in the offing, albeit separately.
According to Governor Abdulahi, leaders from the region had agreed to support President Uhuru's pick for president, cognizant of the unique problems affecting the region.
Abdulahi said these include marginalisation, insecurity, aridity leading to droughts and flooding, poor infrastructure, poor access to education, poverty and famine.
"The region has so many challenges such as drought that has left livestock dead, we need to confront some of these challenges while united," said Garissa Senator Abdul Haji.
The leaders vowed to use the newly formed Upya Political Movement to negotiate for the region's interests.