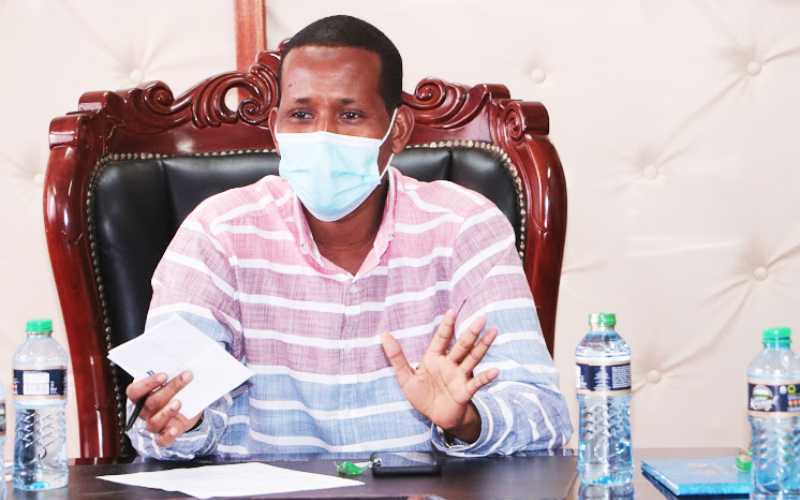 Meru High Court Judge Patrick Otieno has stopped Wajir Deputy Governor Muktar Ali from assuming the office of the Governor.
In the ruling, Justice Otieno said Muktar should not assume office until a petition filed by former Governor Mohamed Abdi is heard and determined.
Abdi filed a petition at the Court challenging his removal from office, a day after a Senate special sitting upheld his impeachment.
Muktar was on Tuesday, May 18, sworn in as the third Governor at the County Headquarters.
According to Lawyer Ndegwa Njiru, the whole process had been stopped and Mohamed Abdi is still the county boss.
"We are basically back to where we started," Ndegwa said.
He adds the orders obtained by Governor Abdi affect the process from the County Assembly to the Senate and the swearing-in.
"The orders stay or suspend the implementation of the resolution by the Senate," Ndegwa Njiru told The Standard.
After taking the oath of office, Muktar said "I commit myself to prioritise services, especially in the health, education and water sector. I promise to strengthen the bond of unity between the people of Wajir, desist hate, nepotism and skewed resource allocation."
He directed County employees to take their duties seriously and be at their place of work.
He also pledged to meet with health union officials to resolve issues that have paralysed service delivery.
Abdi was impeached by members of the Wajir County Assembly on April 27 with 37 voting to have him removed, while only 10 opposed his removal.
Senate selected a committee to hear the charges and make a ruling. The committee was chaired by Nyamira Senator Okong'o Omogeni and deputised by Nakuru Senator Susan Kihika.
The Committee held sittings for two days before submitting a report on Monday, May 17, to the house that recommended his removal from office.
Senate voted to have Abdi impeached with 25 Senators supporting the motion, two were against it while four abstained from the vote.
Abdi was found guilty of contravening the County Government Act 2012, the Public Procurement and Disposal Act 2015 and the Public Finance Management Act 2012.