World's only known white giraffe collared to ward off poachers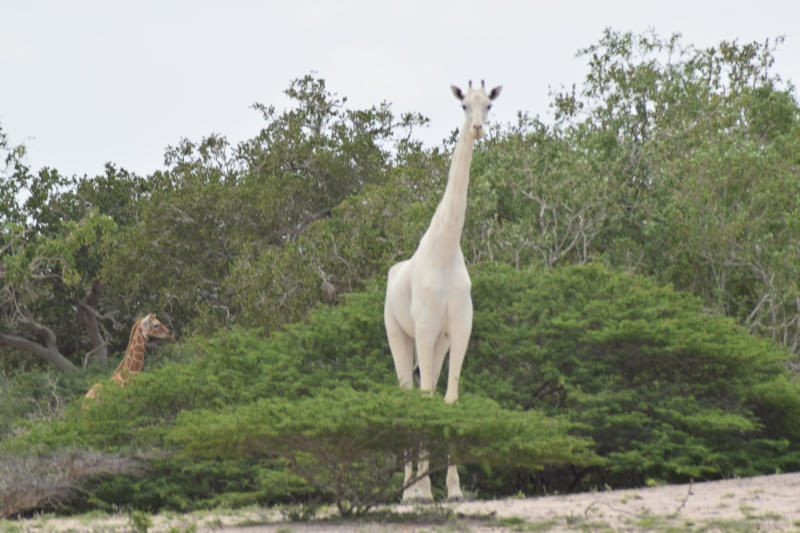 Conservationists have fitted the world's only known white giraffe with a tracking device — a last ditch effort to save the species from extinction.
The giraffe has a rare genetic trait, leucism, which results in partial loss of pigmentation in animals and causes white, pale, or patchy coloration of the skin.
The bull is the last in a family of three after a female and her 7-month-old calf were slaughtered in March 2020. It was spotted in June, some 111 days after the other two were killed.
Ishaqbini Hirola Community Conservancy in Ijara, Garissa County, where the giraffes lived, said the exercise to put the tracking device was done on November 8 at the request of the conservancy's board to the Kenya Wildlife Service.
The GPS tracker was placed on the ossicone (horn) of the giraffe, the conservancy said in a statement seen by Standard Digital and dated November 17.
The GPS unit will give hourly updates of the location of the giraffe enabling rangers to monitor his movements on a daily basis, "and in doing so keep the unique animal safe from poachers."
Ishaqbini Hirola Community Conservancy Manager Ahmed Noor thanked conservationists for the exercise, adding that " the giraffe's grazing range has been blessed with good rains in the recent past and the abundant vegetation bodes well for the future of the white male."
KWS Senior Scientist Eastern Conservation Area who was part of the exercise said collaring will ensure real time monitoring of the animal.
"I am happy to be part of this collaring exercise that will ensure real time monitoring in time and space as part of National Giraffe Strategy implementation," said Bundotich.
GPS trackers were also fitted on five endangered Hirola antelope in a move that seeks to conserve the world's most endangered antelope.
Take a quick survey and help us improve our website
Take a survey
The collars which send a GPS position twice daily to the Sanctuary management team and this will enable rangers to remotely monitor the wildlife.
According to the conservancy, there has been a 160 per cent increase in the population of Hirola in the Sanctuary since it was established in 2012.
With a founder population of 48 Hirola, by December 2019 the population of the antelopes in the sanctuary reached approximately 118-130 animals: a 13 percent average annual population growth rate.
Ishaqbini, was established as a community conservancy by the communities of Hara, Kotile and Korisa locations, with the aim of conserving the ecosystem within Ijara, Garissa County, while sustaining their livelihoods.
To date 58 people from the community, including 24 scouts have received direct employment.
The conservancy said the process to collar the giraffe was supported by the Northern Rangelands Trust and Save Giraffes Now.