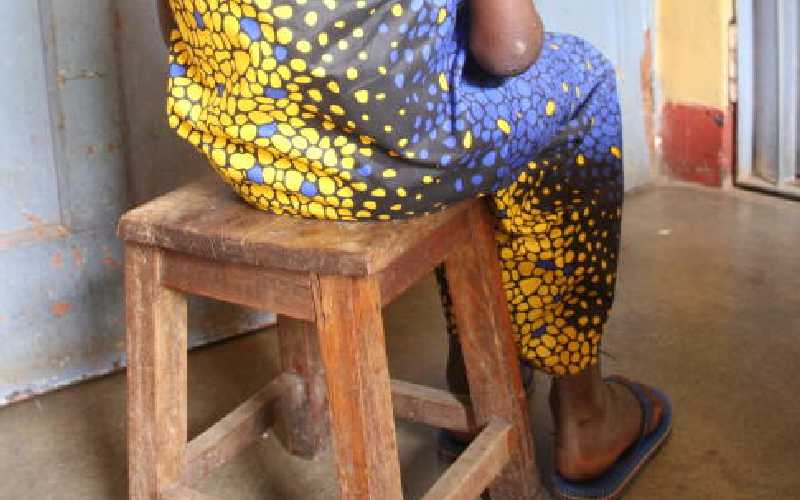 A 13-year-old girl from Habaswein area of Garissa County has been rescued after fleeing from a forced and abusive marriage to a 70-year-old man from Biliqo village in the neighbouring Isiolo county.
Zamzam, (not her real name), was a Grade Three pupil in Habaswein when her father forced her out of school to start herding goats before eventually marrying her off to the man.
She has endured both physical and sexual abuse for eight months.
According to Zamzam, the old man would beat her up when she went back home to report to her father about the challenges she was facing, but her father beat her up again and forced her back to the old man.
Zamzam decided to flee and found her way to Isiolo town where she started looking for a job as a house help since Sunday.
Kathra Ali, a member of the Somali Women Self-Help Group was unwell and while seeking medical attention at the Isiolo County Referral Hospital, she met a visibly dejected Zamzam.
She was asking for a job as a househelp. The young girl opened up about the challenges she had gone through, asking for a place to sleep that night and possibly a job as a househelp.
Kathra accommodated her that Sunday night and called the group chair and a few other members, informing them of the young girl's predicament.
The members took Zamzam to Isiolo Police Station where they reported the matter and later took her to Isiolo County Referral Hospital for medical examination.
Led by group chairperson Fani Mohamed, the women condemned the incident, calling for speedy action by the government to apprehend both the father and the old man who abused the young girl for eight months.
According to Fani, medical examination reports show Zamzam had been badly injured on her private parts and had marks on her body, an indication that she was physically abused.
Fani questioned why chiefs or assistant chiefs in Habaswein or Biliqo had not gotten wind of the matter and taken any action to rescue the girl.
The group members noted that there is no goodwill from residents and the government to end FGM and forced marriages among pastoralist communities in Northern Kenya.
Fani noted that other similar incidents had gone unpunished in the past, adding that the group will follow up on the matter with the Kenya Human Rights Commission and FIDA to ensure the father and the man who married the girl are arrested.
Isiolo Parents Association chairman Ismail Ali Galma who joined the women also faulted the chiefs and assistant chiefs for failure to play their role as required, either not getting information or refusing to act on the matter knowingly.
He said there are other related cases that go unreported as pastoralist community members hide such information from government authorities and the media. He called for swift action to be taken against those responsible for the forced marriage to discourage the practice.
According to the women, Zamzam's mother has been bedridden for years as she has cancer, leaving the girl at the hands of her father who decided to marry her off to make quick money from her dowry.
Zamzam says she wants to go back to school. She is now under the care of one of the group members as they embark on a process to seek justice for her.