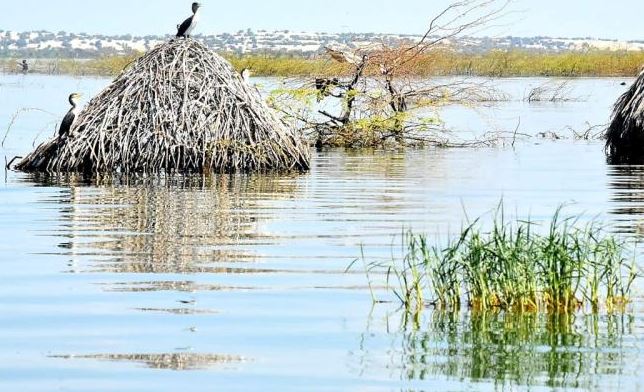 For the last two months, the shores of Lake Turkana have been submerged as water levels rise following heavy rains in the region.
The lake has expanded to over four kilometres into settlements, displacing hundreds locals and submerging business premises.
Crocodiles and hippopotamuses have moved out of the swelling lake and are causing havoc.
Reports by the Turkana County government indicate that three people have been killed and five injured in crocodile and hippo attacks.
According to the county disaster management department, 15,000 living in areas adjacent to the lake have been displaced and have been spending the nights in makeshift structures in areas as far as 15 kilometres from the lake.
Read More
Akiru Zainabu, who lost her brother Joseph Lopeyok in the latest crocodile attack, said they're living in fear of the frequent attacks.
"A crocodile killed my brother, and we are yet to come to terms with the loss.
"These animals have moved out of the lake and are now attacking us," Zainabu said
According to Zainabu, her brother was fishing in the swollen lake when the crocodile struck, killing him on the spot.
"He was fishing in a flooded area far away from the shores of Lake Turkana," she said.
Also submerged by the rising levels of Lake Turkana are offices of the Beach Management Unit in Kalokol.
BMU co-chair Shadrack Eyanae said the swelling of the lake has pushed residents to areas without access to health services.
"The rising water levels have changed ecosystems and livelihoods.
"This is the first time it is happening and it may make it difficult for residents to return to the shores in coming years," he observed.
"The Lake waters submerged our premises and have halted our daily activities. We just don't know where to start from," said Robinson Lokaale, a resident of Kalokol.
Supply of necessities
On Wednesday, a county team led by John Tukei, the Turkana County deputy director for disaster management, saw the submerged villages at Ngimuria in Kerio Delta Ward where 6,000 villagers have been displaced.
Tukei reported that Nadoto, Ekwar, Eliye Springs, Namukuse, Lobolo, Nakatuman and Lokipetot villages have been submerged by the rising waters and property worth millions of shillings destroyed.
Benson Lokwang, the county Executive in charge of public service and disaster management, yesterday described the swelling of lake Turkana as a catastrophe.
Lokwang said there was an urgent need for supply of necessities like clean water, food, temporary shelters and medicines since the lake has been swelling at an alarming rate in the past three months.
The county has been assessing the situation and has established that many human settlements were completely destroyed and submerged.
Water levels in Lake Turkana surged after River Omo originating in Ethiopia swelled following heavy rains.