Huge losses, residents displaced as lake rises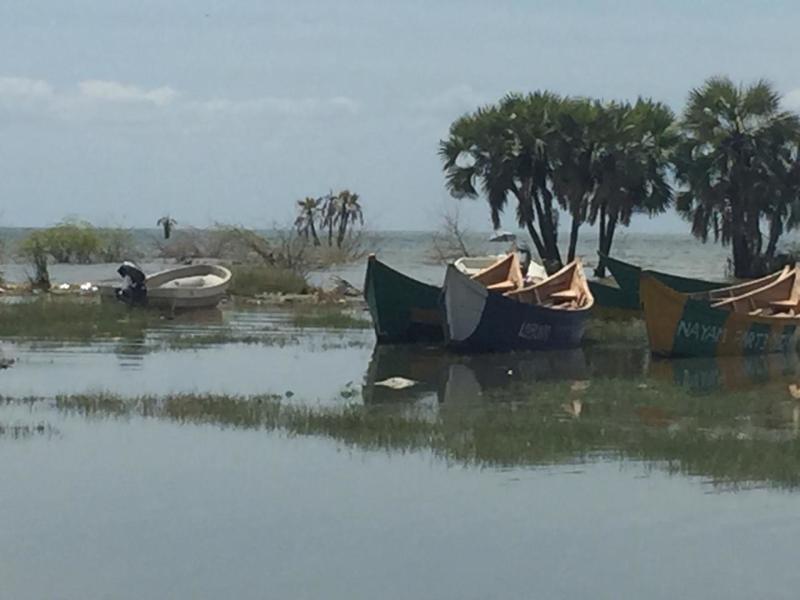 People living around Lake Turkana continue to count huge losses as the water levels rise at alarming levels.
Already thousands of people living around the lake have been displaced, with hoteliers, fishermen and traders counting losses estimated at over Sh40 million after their business premises, fishing nets and boats were destroyed.
They now fear for the worst if the waters continue rising, a phenomenon they have never witnessed in their lifetime.
Other lakes in the Rift Valley, including Baringo, Bogoria and Nakuru, are also experiencing unprecedented rise in their levels.
Fishermen say all their landing beaches have been submerged, leading to damage on the boats by rocks. The water levels have risen over two metres.
Fear of being attacked by wild animals, including hippos and crocodiles brought about by the flooding, is complicating the already dire situation.
Lowareng Beach Management Unit (BMU) Chairman Moses Ekidor said the lake is usually full to the brim from August to October but this has changed.
Grounded boats
"The flooding has shocked us. The water has broken its boundaries and spilled over 100 metres inland, causing a lot of destruction and displacement. Our BMU comprises over 400 members who entirely depend on the lake but their nets have been destroyed," said Ekidor.
He said the fishermen had lost Sh6 million worth of nets, and were yet to repair grounded boats.
"We suspect River Omo delta is flooded and the reeds uprooted during the construction of Gibe Dam in Ethiopia are the ones destroying our nets. The reeds and the rocks swept into the lake are enormous," he said.
Ekidor said it is now commonplace to see crocodiles and hippos roaming around, endangering people's lives.
Another fisherman, Daniel Epenyo, said all the beaches surrounding the lake and several manyattas have been submerged.
"Our people live in manyattas. They had to move out quickly to higher grounds but now they lack access to clean drinking water because the pipes and taps have been submerged," said Epenyo.
Apart from Lowareng, landing beaches that have been submerged include Kaito, Kalokol, Todonyang, Kariekuk, Naiyani and Esanyanit, with their administrative offices all underwater.
"With no landing beaches and fishing nets, it is challenging for fishermen to fish. This will affect us because we entirely depend on fishing to earn a living," said Epenyo.
Julie Samal, a coxswain tasked with rescue operations in the region, said it was no doubt the waters are unsettled.
"Indeed there is a lot of rain in the area and in the highlands that recharge the lake. There are rains each year but the waters are never this much and rough. There must be a volcanic activity happening in the earth surface responsible for the rising waters," she said.