Famine, conflicts loom as desert locusts ravage Northeastern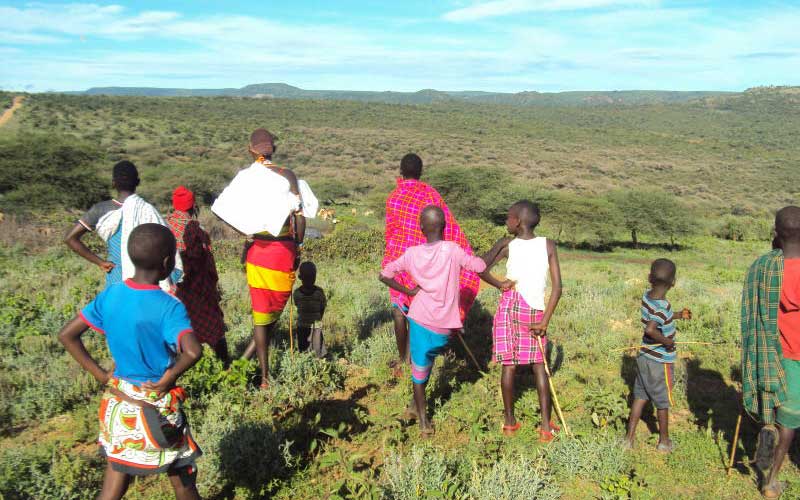 Threat to food security, livelihoods, tensions and even violent conflicts and displacement looms large among pastoralist communities in Northeastern Kenya due to the effects of desert locusts.
Since their arrival late December and further infestation, desert locusts have eaten and cleared thousands of acres of grass, vegetation and crops in the region.
Widespread rainfall beginning early in the year had given hope to pastoralists who were overcoming the effects of severe drought. Majority had planted various crops.
That hope is dying as desert locusts continue to spread and destroy young crops. Currently, Mugur area in Samburu East, Samburu County is one of the areas under siege, after the insects descended and started clearing crops, pasture and vegetation four days ago.
County and national governments and other stakeholders have assured affected communities that they have intensified the fight and soon winning against desert locusts.
A visit by Standard Digital visited early last Friday morning found the area full of activity, to kill the desert locusts.
In the skies was an aeroplane spraying chemical pesticides onto tens of swarms that engulfed trees and vegetation while on the ground, residents armed with sticks hit and chased the pesky insects.
Tiampati Lelelit one of the locals chasing locusts says they arrived only four days ago but have already caused unprecedented damage.
"The swams have cleared grass, leaves and any other vegetation, meant for livestock here. My livestock has nothing to eat now and in future. The only option is start moving to an area with pasture," he explains.
Almost 500 metres away, Stella Ledamako stares at her one-acre farm that had maize, beans and cowpeas, a week ago. But nothing remains after desert locusts descended on it.
She regrets all the food crops she'd planted are gone. "After struggling with drought, rains came as a blessing in January and we planted crops.
They have been doing well, till desert locusts came and cleared everything. I can predict the worst of famine in future," said Stella, who is afraid of moving closer to the insects.
Stella vows not to plant crops again as long as the insects are still around. She explains: "Another challenge is, even if locusts are destroyed, and plant again, rains will disappear, leaving young crops to wither and die before maturity."
According to Locust watch by Food and Agriculture Organization of the United Nations (FAO), desert locusts have destroyed thousands of acres in Wajir, Samburu, Turkana, Isiolo, Mandera, Marsabit and parts of Baringo.
Albert Lemasulani, a community leader in Isiolo involved in desert locust eradication reveals the damage is huge, Olonyiro area of Isiolo over 100,000 acres have been destroyed.
"We have been losing livestock on normal drought, but now adding locusts menace will increase deaths of livestock and people facing hunger," he said.
He explains since it started raining, plants have produced some pods normally fed on goats and sheep during dry season. Unfortunately, the insects are eating the pods, meaning livestock faces starvation and eventual death.
Following huge damage, Lemasulani reveals pastoralists in some areas have started moving in search of pastures.
Meanwhile, government admits huge damage but is yet to ascertain the extent of destruction.
Prof Hamadi Boga, Permanent Secretary (PS), State Department of Crops and Agriculture Research, says the government plans to hire experts to do analysis of extent of damage.
"Here is a social economic damage that as Ministry we can't do on our own. We wanted to work with Tegemeo Institute of Egerton University to analyse and give us the feedback," he said.
Prof Boga assured residents in affected regions not to worry about food shortages, since the progress of fighting the insects is bearing fruits and likely to be completed by end of June or early July.
He says swarms have reduced swarms. At some point, Samburu had over 100 swarms but now has only three; "That is an indication we are flattening the curve."
Prof Boga said: "Even after end of spraying, we will still be on the ground for three years, monitoring and working with communities to rebuild their lives."
Isiolo County governor Mohammed Kuti lauded the efforts by national and county governments, FAO and other partners in the fight against desert locusts.
"We are happy these menace that would have affected our food security and make us food insecure is almost over. We are at a point we strongly feel we have done good job and very soon we will complete this exercise," he said.
Hamisi Williams, Assistant Food and Agriculture Organization of the United Nations (FAO) Representative to Kenya Programmes said Kenya experienced locust invasion over 70 years ago.
"So, when desert locusts arrived, preparations levels were zero and there was no expert level in terms of how to deal with the insects," he said.
He explains without expertise, people turned to rudimentary control measure such as chasing locusts, making noise and firing guns. This never worked and the desert locusts continue spreading.
Hamisi explains, though FAO came in as experts in desert locust, initial challenge was lack of chemicals to use, since traders did not have.
The challenge became logistics from Japan where they sourced most of chemical pesticides due to grounding of aircrafts as a result of Covid-19.
"There was also the issue of getting planes for aerial spraying. However, we managed to acquire 10, including two from South Africa," he said.
He cites vastness of the area; tough terrains have made challenge to manage desert locusts. He revealed: "We dealing with rough terrain, forests, deserts and some of these places are conservancies. The locusts are there but you don't obviously find them."
On fears there might be second invasion of swarms from Ethiopia and Somalia, Prof Boga denies saying there is no likelihood because the winds have changed points and are moving towards North.
He also denied chemicals used are killing untargeted wildlife.
Prof Boga explains: "There is no information that chemicals used were killing birds and other wildlife. We send experts but it was never verified. In science there is what we call selective toxicity and what kills insects cannot kill a mammal unless you take very abnormal proportions."
He adds, government has recruited environmentalist to track if there are any effects of chemicals on the biodiversity.
Prof Boga said Covid-19 has not affected war on locusts, "We declared fighting locust an essential service that is why those involved are not restricted by movement."
Hamisi reveals up to now, all that is left is increase surveillance, including adding more helicopters with sophisticated gadgets to identify the targets and complete the work well.
In Turkana Governor Josphat Nanok has expressed fear that the county is starring at a possible famine following devastating effects on food crops by desert locusts.
Mr Nanok said all the seven Sub-counties have reported cases of desert locust invasion and there are approximately 462,000 hectares that have been affected by the ravaging insects since they were first sighted and confirmed three months ago at Lokwamosing in Turkana East Sub-County.
"There are approximately 41,468 acres of land under food production currently in the County but the present desert locust upsurge poses a great challenge to our food security efforts," warned Mr Nanok while giving the county status on locusts infestation at his Lodwar office.
The governor said 80 per cent of the residents depend on pastoralism as well as irrigated farming but the locusts have invaded the farms and shrubs relied upon by livestock.
He underscored the need for strategic partnership, collaboration and coordination by all stakeholders was very critical in the coming months to ensure the farming investments made at the moment continue to yield positive results.
"The appropriate equipment, supplies and resources are being deployed in the fight against the desert locust invasion. The multi-stakeholder team is doing their best to give proper attention to the Turkana situation. We continue to applaud these efforts and encourage the team to maintain the focus and spirit even in the current Coronavirus pandemic environment," stated he governor.
He noted that there is already established a desert locust central operations base in Lodwar with dedicated staff connected to a network of focal persons and sub-county teams in the field.
Nanok said the National Government (State Department of Agriculture), Food and Agriculture Organization (FAO) and a host of development partners, have been working together with Turkana County Government's relevant ministry to contain the spread of this pest and mitigate its effects on livelihoods for the cropping and pastoralist populations."
Additional Reporting by Fred Kibor