Tension in Mandera as Somali troops clash with Jubaland's in neighbouring town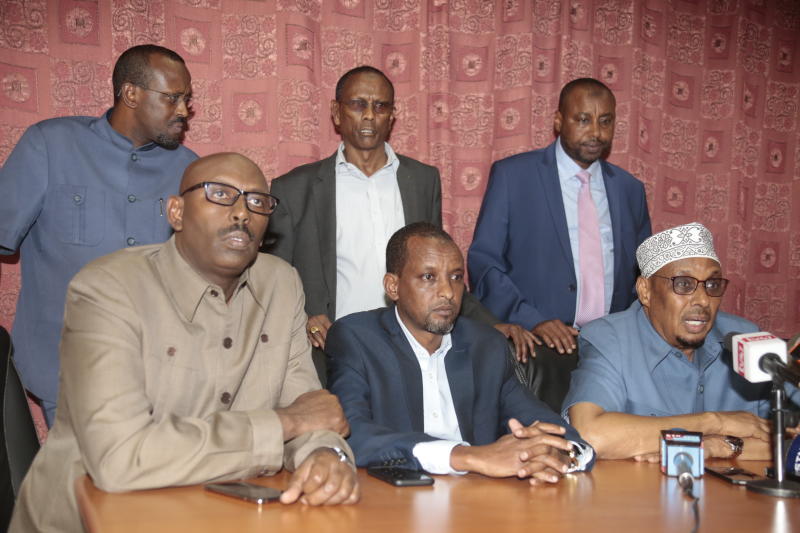 Fear gripped Mandera town yesterday following clashes between Somalia troops and Jubaland forces across the border.
Communication was cut in the town for the better part of the day as the clashes went on in Bula Hawa town on the other side of the Kenya-Somalia border.
A number of residents fled Mandera on Monday fearing that the fighting might spill over into the town. Dozens of fleeing Jubaland troops crossed the border into Kenya and were held at a local police station where they debriefed the Kenya Defence Forces that patrolled the town's streets.
Heavy gunfire and explosions could be heard from Bula Hawa as black smoke billowed in the horizon. The clash brought business to a standstill with most of the shops in Mandera town remaining closed.
The Somali troops are said to have been camping in Bula Hawa for the past month planning a raid to capture a fugitive Jubaland minister said to be hiding in Mandera town.
Officials said former minister Abdirashid Hassan Abdinur alias Abdirashid Janan arrived in Mandera town on January 30 and was booked in a local hotel after he escaped from a Mogadishu prison, where he had been held since August 31, 2019.
He later rented a house at Border Point 1 on the Kenyan side of the border, further stoking tension.
Mandera Governor Ali Roba called on the government to intervene and have the fugitive minister removed.
Meanwhile, Kenya has denied claims by Somalia that it is encroaching its borders. A statement from the Ministry of Foreign Affairs described allegations from the Somalia side as 'baseless.'
"These baseless accusations are part of a growing and persistent pattern of ill intent to use Kenya as a scapegoat and tool to justify unfulfilled and legitimate social demands in Somalia and for the political mileage," said the ministry.
Somalia's Ministry of Foreign Affairs had on February 27 accused Kenya of undermining the country's stability and sovereignty.