North Eastern leaders seek local solution to attacks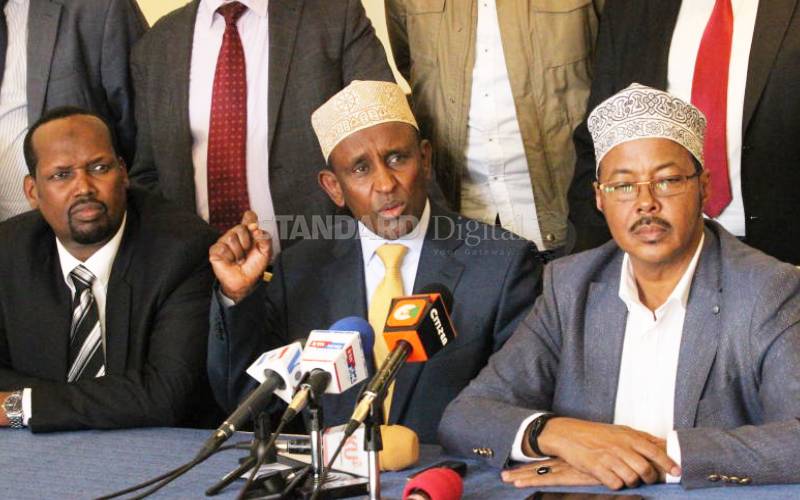 Key North Eastern leaders have been holding a series of meetings to discuss the security challenges affecting the region, particularly terror attacks that prompted the withdrawal of teachers.
The meetings have been happening in Nairobi and in the region to discuss the way forward after the Teachers Service Commission recalled all non-local teachers over insecurity.
On Wednesday last week, Garissa, Mandera and Wajir governors and other leaders from the region resolved at a meeting in Nairobi to renew their commitment to complement the efforts of security personnel through community-based support.
Those in attendance included governors Ali Roba (Mandera), Mohamed Abdi Mohamud (Wajir), Ali Korane (Garissa), Garissa Senator Yusuf Haji and National Assembly Leader of Majority Aden Duale and Eldas Adan Keynan.
In Garissa, Korane has been holding a series of such meetings but they are yet to come up with a tangible solution. He said he convened an education stakeholders meeting to discuss homegrown solutions to our educational needs.
The leaders discussed the current crisis of removal of non-Somali teachers by TSC from the region and agreed that some measures must be taken by the leadership to remedy the situation while they put in place long-term measures.
"We condemn the unilateral decision by the Teachers Service Commission to recall all non-local teachers from the region," said Korane.
TSC removed all non-local teachers from Garissa following incidents of attacks targeting them. More security personnel have been sent to the area to deal with Al Shabaab militants behind the attacks.
Security agencies say smuggling and trade in contraband goods is the cause of increased attacks by Al Shabaab in the area.
Last week, a driver and two conductors were arrested after a bus they were travelling in was found carrying suspected contraband goods on the Nairobi-Garissa highway.
The bus company has since been suspended from operation by the National Transport and Safety Authority (NTSA).
The bus was racing to Nairobi from Dadaab when it was stopped at Ngutani area by a multi-agency team.
Inspector General of Police Hilary Mutyambai said preliminary inspection of the vehicle revealed that the under-floor of the passenger compartment had been illegally modified and fitted with secret storage bins, which were stuffed with the goods.
Among the goods seized were 49 cartons of batook chewing gum, four cartons containing 25 pieces of Tres Orix-Forte appetite stimulant, five boxes containing 1,000 sachets of pain-relieving tablets and 286 tins of red cow milk powder (each 2.5 kilogrammes).
Police also seized 37 tins of Anchor milk powder (each 2.5 kilogrammes) and 42 tins of Nura milk powder (each 2.5 kilogrammes).
The incident comes days after Interior Cabinet Secretary Fred Matiang'i ordered security agencies to immediately stop movement of contraband goods. He said the goods are funding terror activities in the country after they are sold.
Dr Matiang'i said local sympathisers and trade in contraband goods from Somalia were a great challenge in the fight against terrorism.
Most of these goods pass through unofficial routes and end up in Kenyan markets. Levies put on the goods end up in Al Shabaab pockets.
President Kenyatta had told a meeting of security chiefs in Mombasa to end any means that enables the enemy to generate income from Kenya or receive funds.