CS orders crackdown on contraband feeding terror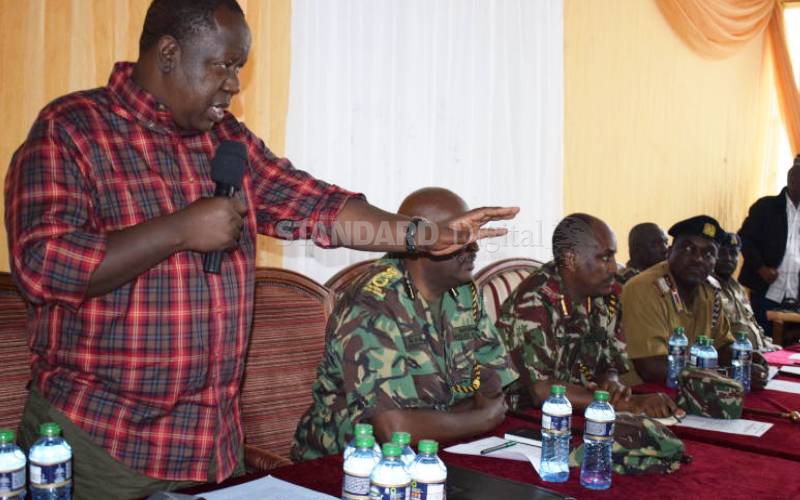 Interior Cabinet Secretary Fred Matiang'i has ordered security agencies in North Eastern to immediately stop movement of contraband goods in the region.
Dr Matiang'i said proceeds from the goods are used to fund terror activities in the country.
Matiang'i said local sympathisers and traders in contraband goods from Somalia are a great challenge in the fight against terrorism.
"I urge government officials to take this war seriously and stop the trade of these smuggled goods. They are funding terrorism," he said.
Intelligence reports have shown most of these goods pass through unofficial routes and end up in Kenyan markets. Levies put on the goods end up in Al-Shabaab pockets.
"Chiefs and their assistants must be accountable. There is no excuse. You must hold regular meetings to know where the problem is," said the CS.
Matiang'i made the remarks when he met security officials in Garissa Town yesterday.
The meeting was attended by regional, county and sub-county security committees.
Inspector General of Police Hilary Mutyambai was also present together with Garissa Governor Ali Korane, Ali Roba of Mandera and Deputy Governor Wajir Ahmed Ali.
"Terror activities had gone down but we are seeing recurrence of attacks that have interfered with development. This involves us all, we must be responsible," Matiang'i told administrators.
The visit comes after the killing of three teachers in Kamuthey and four children in Saretho Primary School.
Last week, three governors held meetings in their respective counties where they came up with proposals they said they would share with the government on how to fight terror in the region.
President Uhuru Kenyatta told a meeting of security chiefs in Mombasa last week to curb any means that terrorists use to generate income.
"Specifically, any and all means by which the enemy is able to generate income from Kenya or to receive funds through our country, including contraband and illicit trade must be brought to an immediate end," he said.
Uhuru on smuggling
The president said smuggling and contraband from neighbouring countries directly funds Al-Shabaab, which on the other side of the border illegally levies taxes that they use to sustain their operations.
"This must stop. I also expect more of the major sponsors of terrorism to be dealt with, not least by ensuring they are listed nationally and internationally, so that there is a tangible impact on their businesses, organisations and ability to operate," said Uhuru.
The most smuggled goods include rice, sugar and powder milk as well as construction materials.
The president further noted that the country needs stronger multinational frameworks for countering terrorism financing structures in the region.