Attack survivor: I hid under the bed with my baby for hours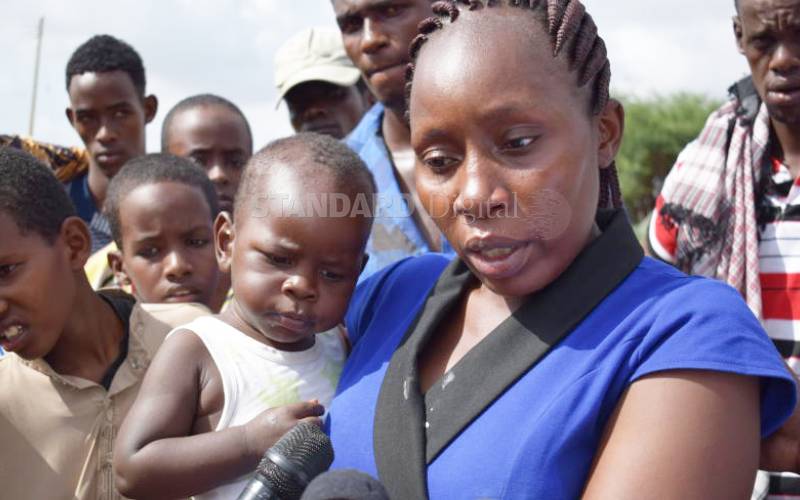 Survivors of a dawn terror attack in Garissa's Kamuthe village have spoken of how they cheated death when gunmen stormed a school, killing three teachers.
A frail Lucy Wanjira, a teacher at the Kamuthe Resource Centre, yesterday narrated how she clutched her one-year-old child close to her chest and hid under a bed for hours as the attackers, believed to be Al-Shabaab militants, struck.
"I could hear them (attackers) speak behind my house while I was still under the bed. I prayed to God to spare my life and that of my child. All along there were gunshots and explosions everywhere," she told The Standard at the school yesterday.
She said the assailants spoke Swahili, with one of them, perhaps their commander, giving orders: "Hakikisha umewamaliza (Make sure you finish them all)."
Robert Kabuti, another teacher who has been teaching at the school for five years, said he was woken up by gunshots within the school compound.
He said he peeped through the door and saw heavily armed men outside. He opened the door and dashed to a nearby bush.
Dodging bullets
"I was literally dodging bullets because they were chasing me and firing for about 100 metres into the bush," he said, adding: "I crawled under trees and shrubs and was able to make a phone call to the police."
By the time the attack at the centre (it is about 35 kilometres from Garissa town) ended, three teachers lay dead while another sustained injuries in the hip and legs.
The victims, who were shot at close range, were spending the night at the staff quarters in the school compound. The militants also destroyed a Safaricom communication mast and razed four rooms at the police station during the 2am attack.
"It is so sad we have lost colleagues at their prime age. They had served for barely more than two years. We reported and even prepared the school time table with them last week," Kabuti said.
The school's headteacher Abdinasir Hussein's house was also shot at during the attack but he was not at home.
Officials said the attackers might have emerged from the nearby Boni forest.
A team of security agents was mobilised to pursue the attackers who locals said were about 20. This is the latest such incident in the past couple of days.
Al-Shabaab has lately intensified assaults on Kenyan, killing civilians and targeting security officers. Last week, four school children were killed in Garissa County when they were caught between fighting Al-Shabab militants and security officers. The militants also attacked a military camp in Lamu County where Kenya and American soldiers train.
Following the latest attack, education in the region is in limbo as Teachers Service Commission withdraws teachers from insecurity-prone areas.
Northeastern Regional Education Director Yussuf Jilo Karayu said they have advised teachers to move to safer areas as they wait for the government to boost security.
Garissa County Education Director Khalif Issack said the county education board has suspended learning for two weeks until normalcy returns.
Non-locals
Hundreds of non-local teachers who left their work station converged at his office yesterday seeking to know what to do next.
"No one is safe. We foresee schools being closed because it is no longer safe to keep teachers at school. We urge local county leadership to intervene," said Issack.
He said the county government can recruit ECD teachers to complement efforts of the remaining teachers.
"We want the government to secure all schools and health centres. Teachers and learners must be protected," he said.
Northeastern Regional Commissioner Nicodemus Ndalana termed the incidents unfortunate, saying they have a good plan to deal with such attacks in the region.
"For us to succeed, we must involve the public, local leaders, chiefs and security officers," he said.