Revealed: How complex Moyale human smuggling thrives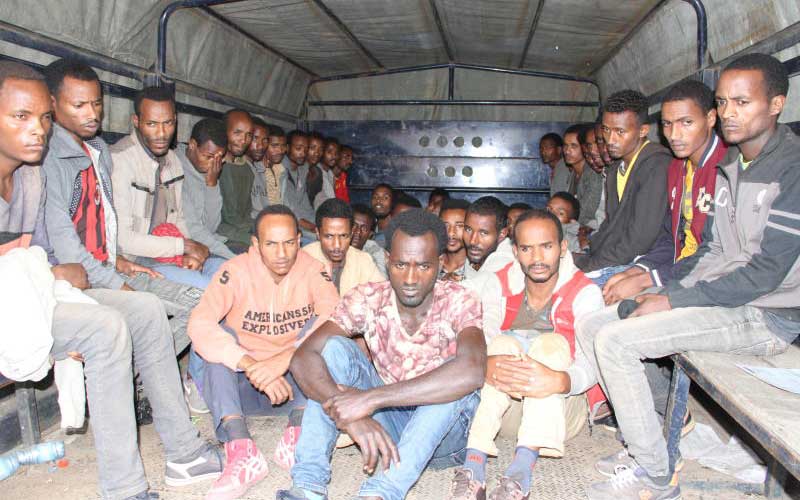 Mwendwa speaks Amharic with near native fluency for someone who grew up and spent most of his adult life in Kitui, more than 1,000 kilometres from Moyale where he now resides.
Yet, his mastery of Amharic has set him apart as the man that hundreds of Ethiopian and Eritrean migrants with aspirations of migrating to South Africa seek when they need a 'fixer' to help them move across Kenya.
Mwendwa, who does not want his full name disclosed for his security, passes himself as a hawker in Moyale town, but is an agent for a smuggling ring that helps Ethiopian and Eritrean migrants enter Kenya illegally.
Moyale has become a boom town for smuggling networks that profit off desperate Ethiopian and Eritrean migrants seeking a better life and opportunities in South Africa.
Porous borders
It is here that the hundreds of migrants from Ethiopia start a fraught and desperate overland journey of about 6,000 kilometers to South Africa.
The migrants illegally cross the border into Kenya through Moyale, Dukana and Forolle in North Horr, Bute in Wajir North and Takaba in Mandera West. Smuggling cartels facilitate their passage.
Porous borders and inadequate, poor and weak enforcement of immigration laws due to corrupt State officers are the major drivers of migrant smuggling and human trafficking, a Sunday Standardinvestigation has found.
The allure of South Africa is fed by the relatively lax rules in dealing with asylum seekers and refugees. Once in South Africa, the migrants register as refugees and can get jobs almost immediately.
The buzz of activity in Moyale -- young men offloading goods from Nairobi and Central Ethiopia -- belies the secret that the town owes its rapid growth to the illegal smuggling of migrants.
About 60 per cent of the town's wealth comes from the illegal trade, according to immigration watchdogs.
Data from the Regional Mixed Migration Secretariat (RMMS) estimates that the number of people leaving Somalia and Ethiopia via Kenya could be as high as 17,000.
In 2015, South Africa received 62,200 asylum applications, 10,000 of them Ethiopians, majority of whom made the overland journey through Kenya.
Migrants pay between Sh80,000 and Sh100,000 to be smuggled. A fraction of that money will go to police officers and border officials to ease their movement.
Law enforcement officers are bribed at road blocks. In extreme cases, the smugglers bribe police officers to release intercepted migrants.
Some of the money also goes to vehicle owners and landlords who own safe-houses.
The fabled success of the migrant's compatriots in South Africa has sparked an exodus to the Rainbow Nation, most leaving with nothing but the clothes on their backs and the dreams of a better life.
The migrants make the arduous and often perilous journey from their homes in Southern Ethiopia to South Africa on lorries, buses, taxis, police vehicles and even on foot.
Typically, brokers like Kivoi connect them with smugglers who arrange the logistics, procure guides, assist with bribing officials and organise 'safe houses' in transit towns.
Many migrants who reach Nairobi end up in the neighbourhood of Eastleigh and other populated areas such as Kahawa West, Ruiru, Kasarani, Dandora, Kayole and Embakasi.
The fortunate few will proceed to South Africa, but more will end up in prisons in countries along the migration route. The most unfortunate will die.
In Moyale, the smuggling business is known as 'Kambaata', which derives from the name of a community living in Southern Ethiopia which has become synonymous with the migration.
The kingpin of the smuggling operation is said to be based in Nairobi and facilitates the movement of the migrants on land or by air.
Migrants with passports can fly legally to Maputo in Mozambique where compromised immigration officials will permit them into the country from where they will cross the border to South Africa.
Waved through
Transportation for the migrants is organised in Moyale. Usually, they are vehicles that had ferried goods from Nairobi.
The smugglers make arrangements with the border guards and police officers at checkpoints by bribing them to wave the trucks through.
In other instances, a reconnaissance vehicle drives ahead to help smugglers avoid being caught.
They adapt their behavior according to the police and unless tipped off by the public, police checks rarely find the trucks smuggling people.
Brokers told Sunday Standard the journey from the border to Isiolo is the toughest due to the heavy police presence.
The main route for smuggling Ethiopians is through Moyale-Marsabit-Isiolo highway but the corridor is especially difficult due to the notoriety of the Isiolo road block, said one agent.
The alternative and safer bet is the the Moyale-Wajir route through Bosnia. The others include the Bosnia-Arbijan to Merti, Merti-Kom-Archers Post and Merti-Gotu-Mutuati.
However, the smugglers are always ready to change routes depending on how they are policed.
Through sources in Moyale who are familiar with the operation, Sunday Standard also learnt that the migrants often opt to walk to Isiolo or Merti on foot, a journey through the networks of ruts across the vast parched Marsabit, Wajir, Mandera landscapes. From Isiolo or Merti, they then board a vehicle to Nairobi.
The more innovative smugglers have fitted lorries with fake compartments that are easy to disregard as was the case in Tanzania where a truck was intercepted smuggling about 64 Ethiopian migrants in secret compartments with cartons of bottled water.
They were arrested after crossing the Holili Border in Taita Taveta County in Kenya into Tanzania.
For the number that are arrested in Kenya, an even bigger number makes it into Tanzania, Malawi and Mozambique.
The smugglers have a scant regard for human life -- no thought is spared for the fate of the migrants they are transporting.
In those crammed and confined spaces, it is difficult to breath and some of the migrants suffocate.
In other unfortunate cases, like that of October 2018, some Ethiopian migrants drowned after a boat carrying 13 people capsized off the coast of Tanzania en route to South Africa.
In 2016, 19 Ethiopian migrants were found dead in a container in the Democratic Republic of Congo. They were on their way south. Four years earlier, Tanzanian authorities found some 43 others dead and dumped in the bush. The truck that was ferrying them was found nearby.
A smuggler told Sunday Standard that sometimes, they are forced to keep the migrants in Moyale for months as they arrange for their movement.
The business thrives on numbers which enable the smugglers to spread the risk.
"I have a girl now but I cannot just move one person and she does not understand English. She will stay here in Moyale for a few weeks until I get other people who want to move. Hopefully, she will have learnt English by then," a smuggler said.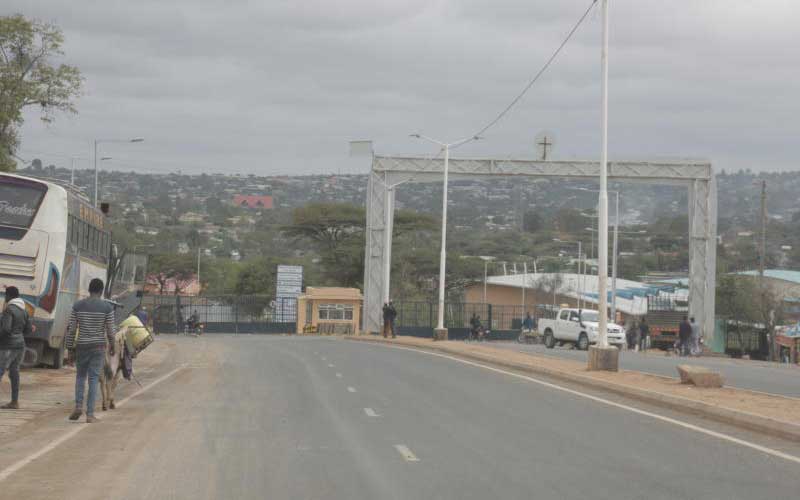 Kenya is the primary transit point to South Africa. But in a number of cases, it is just a temporary destination while smugglers organise for transportation.
According to agencies monitoring migration patterns, Nairobi is at the centre of the trade since it is in the city that most smugglers obtain forged travel documents.
For the migrants who have uprooted their lives in the hope of a better life down South, the risks involved are immense yet rewarding since there is nothing to turn back to.
But the illusion is challenged by the constant reports of Ethiopian nationals getting arrested while being smuggled across the country.
In recent years, Ethiopia has launched public service campaigns to encourage its residents using illegal means to leave the country in search for better opportunities in Europe, Middle East and South Africa to stay.
But as long as the avenues for corruption remain open, the migration will persist.