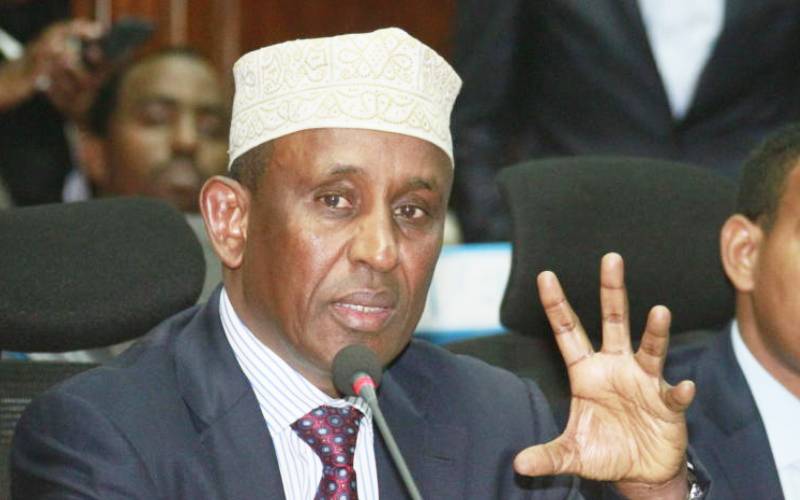 Garissa County assembly will not consider passing the proposed Punguza Mizigo but will forward better ideas to the Building Bridges Initiatives, Governor Ali Korane (pictured) has said.
Addressing journalists in Garissa, the Governor said the impression has been made that Garissa has already made a decision to pass the bill.
Thirdway Alliance leader Ekuru Aukot, who is pushing the Punguza Mizigo campaign, was in Garissa last week, when the assembly members promised to consider passing the bill.
Aukot's visit was preceded by comments by National Assembly Majority leader Aden Duale, who warned the assembly against passing the bill.
Read More
During the popularisation visit, the county assembly had a mocked passage of the bill, saying it had better resolutions since it empowered the wards.
"We are an independent entity who make decisions without undue influence, we will not allow anyone to armtwist us," said Garissa Minority leader Mohamed Abdi.
Governor Korane said Punguza Mizigo has 'very attractive' proposals, but the county needs better solutions.
"We must think of the interest of our people because constitutional changes are not something that one can cause immediate change that will have great impact on our people," he told journalists.
The governor's remarks also come at a time when he led a delegation to ODM leader Raila Odinga who has publicly opposed the Punguza Mizigo proposed bill.
The Governor expressed optimism the BBI team will come up with better recommendations as it had gone round the country and gathered citizens' views.
"As much as I respect the separation of powers and the independence of our county assembly, we will also deliberate with our MCAs before deciding the way forward," Korane said.