Marsabit leaders agree to cease tribal warfare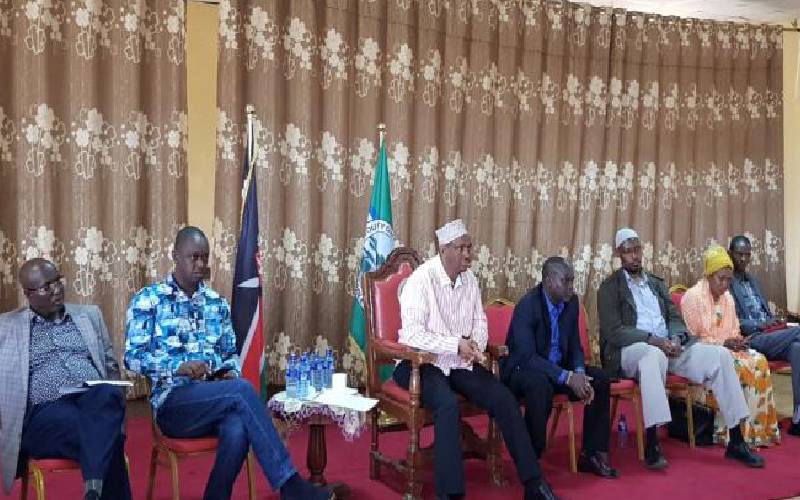 Marsabit leaders on Saturday held a day-long meeting and agreed to end tribal skirmishes in the region.
In the meeting held at the Moi Girls High School, the leaders agreed to immediately reopen dozens of schools that had been closed down due to recent insecurity in Saku sub-county.
The meeting was also attended by county security team.
The recent clashes in the area pitting the Borana and Gabra communities led to seven deaths.
The death toll from intermittent fighting since last September has hit 30.
The leaders also resolved that the county security team should arrest the rising insecurity in Sarima village of Laisamis sub-county and stem cattle rustling in Badassa, Songa, Karare, Hulahula and Manyatta Ginda areas.
Speaking at the forum, governor Mohamud Ali urged locals to return to their homes as leaders and community elders continue to find a lasting solution to insecurity.
"Only through peaceful coexistence will Marsabit residents be able to reap the benefits of devolution as our projects will not be constantly disrupted and the country government forced to divert resources to self-inflicted humanitarian situations," said Mr Mohamud.
While condoling with families and friends of the victims in recent clashes, Mohamud regretted the untold suffering inflicted upon innocent families by criminals hiding behind tribal identity.
Those present agreed that peace-building process must involve elders from all local communities.
County Commissioner Gilbert Kitiyo said the honesty of most of the leaders who attended the meeting had given him hope that a lasting solution would be found.
The meeting was attended by senator Godana Hargura, MPs Dido Ali Raso (Saku), Qalicha Gufu (Moyale), Musa Arbele (Laisamis), nominated senator Naomi Waqo, Deputy Governor Solomon Gubo, County Assembly Speaker Mathew Loltome and a host of MCAs.
Area Catholic Bishop Kihara Kariuki, who attended the meeting, read their resolutions.