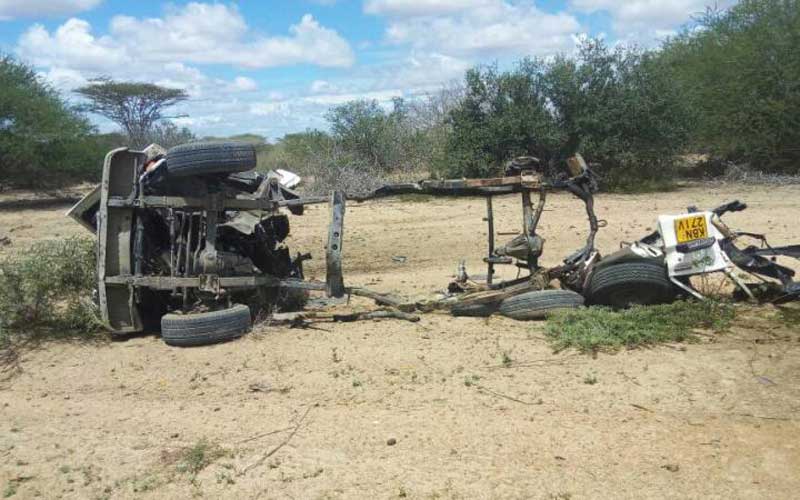 At least 10 police are feared dead, following a suspected Al-Shabaab attack in Wajir East after their vehicle was blown up by an explosive yesterday morning.
Northeastern Regional Commissioner Mohamed Birik confirmed the attack, but said they could not ascertain the number of casualties due to network challenges in the area.
"There was an attack on our officers but we cannot at this point state any casualties, we have sent more security officers to reinforce and comb the area," he told the Sunday Standard on the phone.
Reports suggested that out of 11 Administration Police officers in the vehicle, only one survived the 11am attack.
The officers were on normal patrol between Khorof Harar and Konton village along the Kenya-Somalia border when their vehicle ran over the improvised explosive device (IED).
Read More
Other sources indicate the officers were in pursuit of Al-Shabaab terrorists who had stormed Konton centre the previous day.
The targets of the attack, witnesses said, were the National Police Reservists based in the centre.
"The NPRs fought the Al Shabaab militants, while the locals fled the town centre," a witness said.
The police reservists were however overpowered by the terrorists after they ran out of ammunition. It is feared that three reservists were abducted by the militants.
"They also took a motorbike and a tuk-tuk," a witness said.
It is believed that this intrusion is what may have prompted the team of 13 officers to pursue the militants the following day before running into the IED.
In a statement, the Inspector General of Police confirmed the attack.
"The Inspector General National Police Service wishes to inform the public that this morning at around 10.50am, a police Land Cruiser aboard 11 police officers was hit by an Improvised Explosive Device. The officers were on patrol between Khorof-harar and Konton in Wajir County along the Kenya-Somalia border," read the statement.
The militants have in the past two weeks intensified assaults on Kenyan security officers along the border after an uneasy lull on the region that often bears the brunt of Al Shabaab attacks.
On Thursday, four Al-Shabaab militants were killed when a device they were planting detonated prematurely in Boni Forest. It is believed they were targeting security officers on patrol.
Last week, police officers escaped death when a IED planted by the road missed the target. The officers were escorting a passenger bus to Mandera. This prompted the closure of the roads amidst outcry of the commuters.
A police chopper was yesterday dispatched to the area to airlift the lone survivor of the attack to safety.