Suspected terrorists killed during botched attack on a police camp in Ijara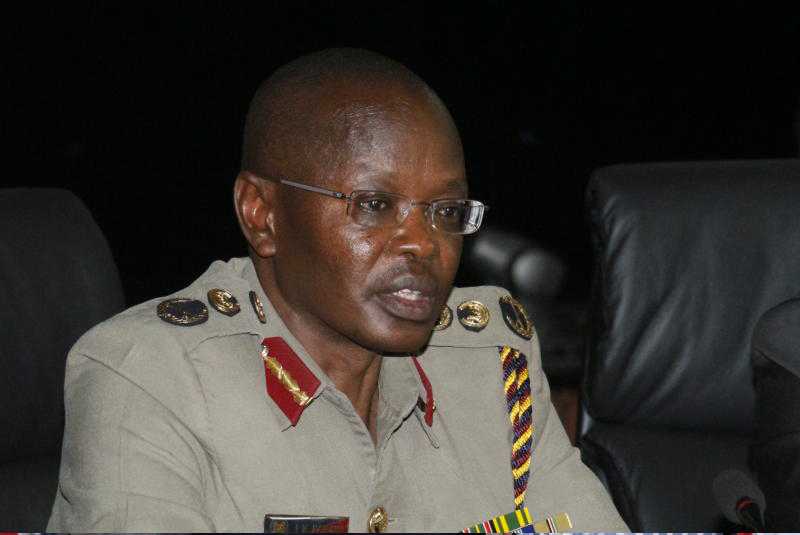 At least four terrorists were killed and several injured during a botched attack on a police camp in Ijara within Boni enclave, Garissa County, on Monday.
An unknown number of terrorists were targeting a camp occupied by the Administration Police's Border Patrol Unit when they were repulsed in the dawn incident.
Inspector General of Police Joseph Boinnet (pictured) said the terrorists were also targeting a communication mast.
The team of border patrol officers repulsed them, injuring four while several ran with serious wounds.
Boinnet said security had been enhanced in the area with more personnel being deployed along the border to tame the terrorists.
"We have enhanced security at large as part of efforts to stop their activities near there," he said.
Witnesses said the officers were still patrolling the expansive forest in search for more bodies.
There had been reports that the terrorists were spotted in the area ready for an attack on security installations.
Last week, a Kenya Red Cross volunteer in Garissa sustained injuries after the vehicle they were travelling in was attacked.
The volunteer was among other Kenya Red Cross officials who were on board when they were attacked in Ruqa area in Ijara.
The border patrol unit has started to take over the border posts from other agencies as specified in a new police structure.
They have camped at Nadapal, on the Kenya-South Sudan border and almost half of the Kenya-Somalia border.
The team intends to cover the entire border from Lamu to Mandera as part of efforts to tame infiltration by terrorists.
This is part of efforts to see APs focus on their main role of protecting the country's strategic installations, VIP protection and border security.
The APs now focus on the Rapid Deployment Unit (RDU), Border Police Unit, APS Stock Theft Prevention Unit (APS-ASTU) and Critical Infrastructure Protection Unit (CIPU).
Kenya Police will remain with the General Service Unit.