Residents cry foul as 3 killed in security operation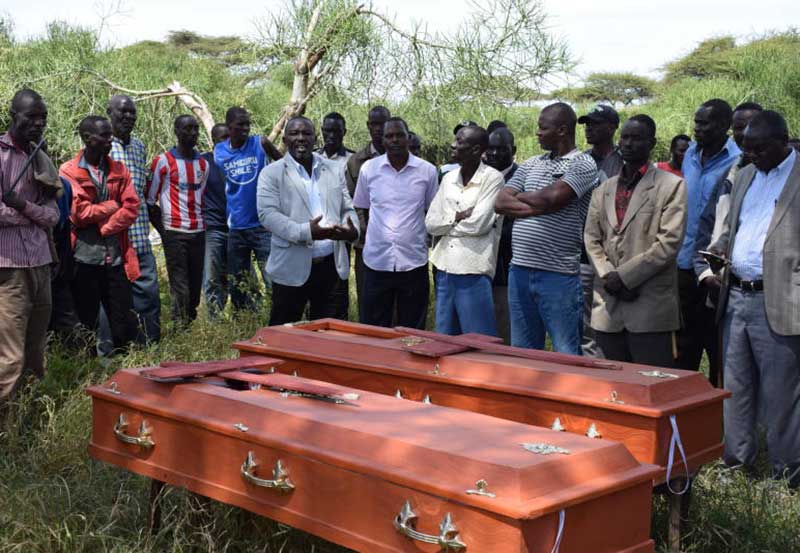 At least three people have been killed and learning in 13 schools disrupted following a security operation along the Meru-Isiolo border.
The youths from Ngaremara village in Tigania East were allegedly killed by officers on Monday evening in an operation police say was aimed at recovering stolen livestock.
Residents who spoke to The Standard yesterday during the burial of Loro Etodo, Akidor Ayapar and Silvester Ekai claimed police shot two of the youths while the third man was run over by a police vehicle.
They said officers drawn from the General Service Unit and Regular and Administration police carried out the operation on Monday despite there being no livestock locally.
The operation that lasted five hours also left families homeless, with locals claiming the officers torched some houses and beat them.
Speaking at the funeral, community leaders blamed officials from the Ministry of Interior for conducting an operation where police used excessive force on innocent villagers.
"We are not sure what the motive of the operation was. How can police officers come with four armoured personnel carriers and shoot unarmed residents? We are appealing to the Interior Cabinet Secretary and his Education counterpart to take action since insecurity has also resulted in the closure of several schools," said Joseph Kalapata, a resident.
Meru County Commissioner Wilfred Nyagwanga declined to comment on the operation, saying although the affected village was in Meru, the operation was being conducted by security officers from Isiolo.
His Isiolo counterpart John Ondego, however, said only one person was killed. "The residents tried to ambush police officers who were from a recovery operation in Daaba area, which is far from Ngaremara."