Two KDF soldiers die, three injured after Armoured Personnel Carrier is hit by a bomb in Mandera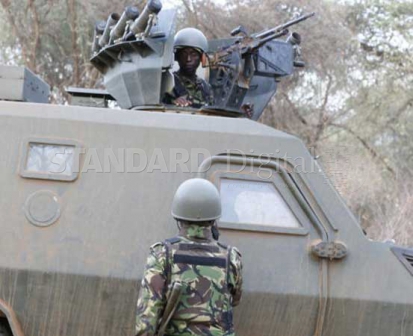 At least two KDF soldiers were killed on Monday when their Armoured Personnel Carrier (APC) triggered off a roadside bomb explosion in Damasa Lafey Sub County, Mandera.
Three others were injured in the explosion that badly damaged the APC.
Security personnel in the area said the Improvised Explosive Device had been set up by Al-Shabaab militants.
The injured were evacuated in a military chopper that landed the area minutes later.
North Eastern regional coordinator Mohamud Saleh said he had not received full details of the incident.
"There was also an exchange of fire between the militants and the survivors before the terrorists escaped," added Saleh.
Other security experts questioned the reliability of the APCs given they could not protect the personnel on board.
More than 50 security personnel have now been killed in separate attacks in the region since May 2017. The attacks were staged by Al-Shabaab militants.
On August 15, five police officers were killed in an ambush by Al-Shabaab militants along the Bodhai-Ijara Road, Garissa County.
The attackers burnt their Land Cruiser and escaped with their guns after the incident.
The officers were from Bodhai police station when they were ambushed at Alijize area as the vehicle raced on the road.
Seven police officers who were in the APC were also killed in Lamu, May this year. The VN-4 is produced in China and is manufactured by Chongqing Tiema Industries Corporation, a China North Industries Corporation (NORINCO) company.
Eleven of the security officers were killed in Mandera and Garissa Counties between May 22 and May 25 in three separate attacks.
Ten others were killed in Baure, Lamu County in two separate attacks.