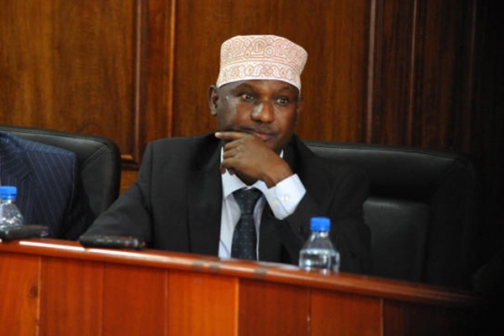 The Labour and Employment Court has ordered the Isiolo County government to pay over Sh2.2 million to the former Chief of Staff who was sacked verbally by governor Godana Doyo last year.
The Labour Court sitting in Nyeri found that Doyo had contravened the law and usurped the powers of the County Public Service Board (CSPB) when he verbally dismissed Abdikadir Suleiman after a tongue lashing on May 5, 2015.
"The court finds that the governor acted without relevant authority as the CSPB was clearly vested with the relevant authority to act in exercise of the powers of disciplinary control over the employees," ruled the court.
The court awarded Suleiman 10 months' gross pay at Sh226, 018 totalling to Sh2,260,180 less due income tax for the period he remained jobless after the sacking.
"The claimant's testimony was that he left the office having been fired verbally," Justice Byram Ongaya said in his ruling.
The governor then issued a press statement announcing changes in which he mentioned Suleiman although he had not received a notice to terminate his employment as required by the law.
He confirmed a replacement had been appointed in his position when a circular letter dated May 27, 2015 about Madaraka Day Celebrations was signed by Mohamed Boru Ali as the Chief of Staff.
Suleiman had been appointed into the position on January 10, 2014 at Job Group "S" with a monthly gross salary of Sh226, 018 including House Allowance of Sh60, 000.00 and Commuter Allowance of Sh16, 000.00.
Suleiman testified that he only received a show-cause notice dated May 20, 2015 on May 27, 2015 long after the verbal sacking. On the same date, he received another letter sending him on compulsory leave from May 4, 2015 pending investigations on several matters brought to the attention of the governor.
By that time, he had already filed a case questioning the unfair dismissal.
The court rejected the argument by the county government and Doyo through lawyer George Kithi that Suleiman filed the suit to pre-empt the disciplinary proceedings after having been subjected to all CSPB procedures.
But the judge rejected Suleiman's application for the sacking to be declared in breach of the constitution.
"The present case was typically a case based on breach of the contract of employment and the constitutional provisions were unnecessarily invoked and remotely so," ruled the judge.
Because Suleiman had later secured employment as an Adviser to the Tana River governor, Justice Onganya also declined to order his reinstatement or award him over Sh5.1 million he would have earned for the remainder of his employment.
Doyo and the county government will also bear costs of the suit.